Exciting new modern muesli brand for adventurous palates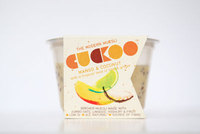 Cuckoo offers consumers a revolutionary take on traditional Bircher muesli with exciting and innovative varieties designed to appeal to Britain's adventurous palates.
Inspired by the century-old Swiss recipe for Bircher muesli and the wholesome Alpine lifestyle, Cuckoo combines tradition with pioneering flavour combinations and contrasting, complementary textures.
Every mouthwatering, healthy and satisfying spoonful of Cuckoo Bircher muesli is varied and interesting with juicy berries, crunchy dark linseeds and flavourful swirls of fruity compote. The bold colours and attractive layers of finest quality natural ingredients ensure Cuckoo Bircher muesli appeals to the eye and stands out on the shelf.
From a range of five, including Elderflower & Cranberry, Choco Sour Cherry and Mango & Coconut, the on-the-go pots are designed to be enjoyed at any time: not just for breakfast.
With an average of 280 calories per 190g single-serve pot, Cuckoo Bircher muesli is low-GI and a great source of fibre and protein, making it the perfect way to start the day, an ideal afternoon pick-me-up or a wholesome dessert option.
Cuckoo Bircher muesli has been voted as one of Britain's coolest brands and is proud to be made in the UK with home-grown jumbo oats and creamy West Country yoghurt that provides consumers with the perfect balance of health and satisfying deliciousness.
The Cuckoo Bircher muesli selection comprises five flavours, all RRP £1.99 for a 190g single-serve pot:
Mango & Coconut, with a tropical twist of lime and ginger Winner of a Great Taste Award
Apple & Cinnamon Spice, with plump and juicy flame raisins Winner of a Great Taste Award
Elderflower & Cranberry, with a blueberry and blackcurrant compote
Choco Sour Cherry, with a smooth layer of Madagascan vanilla
Apricot & Madagascan Vanilla, with a tangy raspberry compote
Co-founders Lucy Wright and Anna Mackenzie are childhood friends with a passion for good food.
They said: "We thought the on-the-go breakfast and snack sector needed a fresh new brand which was as much a treat for the taste-buds as it was for your body.
"Bircher muesli is a classic Swiss breakfast dish and we were keen to give it a fun, young and modern twist with recipes reflecting our taste for bold, interesting flavours, designed to be eaten at any time."
For more information, visit cuckoofoods.co.uk.