Natural glow for face colour cosmetics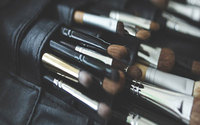 Whilst eyebrow products continue to post brow-raising sales, this year it is cheek products which are the highlight of the market. New research from Mintel finds that bronzer and blusher products became the strongest selling beauty product in 2014 in the face colour cosmetics market, with sales enhanced due to the rise of the contouring trend made famous by Kim Kardashian.
Indeed, in the UK sales of blusher and bronzer grew by 12% between 2013 and 2014 from £67 million to £76 million, making them the strongest growth product in face colour cosmetics in 2014. What is more, they are expected to post a 9% growth in 2015 to reach £83 million.
Roshida Khanom, Senior Personal Care Analyst at Mintel, said: "While a strong cheekbone has been a timeless beauty credential, the growing popularity of Kim Kardashian and the contouring trend has made blusher and bronzer products a make-up bag must have for UK women. For those not wanting to have such full face coverage, blusher and bronzer products have appealed too as it allows this group to take on a more natural glow focussing on enhancement, driven by the 'no make-up' trend."
But while most brands rely on famous faces as ambassadors, Mintel's research finds that the top attribute that colour cosmetic users would like to see in an ambassador is a person who represents their age, with 44% picking this factor, followed by an individual who is known for being a strong female role model (28%) and one who is known for their beauty (23%). Indeed, it seems simple celebrity status is not enough for today's make-up consumer, with just 7% saying celebrity status is an attribute they look for in a make-up brand ambassador, compared to 15% who say they look for a figure with a successful career.
Meanwhile, two in five (41%) colour cosmetic users agree that there are not enough older women in beauty advertising, rising to 63% of over 55s. Younger consumers are the most likely to say they'd like a figure who is known for being a strong female role model, with 40% of 16-24 year olds picking this attribute, compared to 28% overall.
"Celebrities still spark beauty inspiration, but beauty shoppers are skeptical when they're used for advertising campaigns. Women are still somewhat hesitant about advertising and there is desire for greater diversity in campaigns. Brands can take advantage of this by using models and brand ambassadors that are more relatable to the colour cosmetics consumer." Roshida adds.
As well as contouring, it seems the 'no make-up trend' has also strengthened sales of concealer and primer. Sales of concealer in the UK rose by 6% to reach £39 million in 2014 and are expected to reach £43 million this year, whilst sales of primer grew by 5% to reach £36 million in 2014, with these products expected to post sales of £39 million in 2015.
Fuelled by high-fashion status, sales of eyebrow products rose by 14% between 2013 and 2014, from £28 million to £32 million, whilst sales of lipstick rose by 7%, from £136 million to £145 million. Overall face colour cosmetics sales* are expected to grow by 8% in 2015 to reach £1.44 billion, up from £1.34 billion in 2014.
"Further growth is expected for 2015 as prestige brands continue to attract attention and budget brands increase product repertoire by encouraging women to experiment with their look. Customised products have the potential to boost growth even further in coming years, whilst offering women more personalised guidance and advice can help keep them invested in the category." Roshida adds.
Nearly two in five (38%) women in the UK say they apply face make-up at least once a day, whilst just over one in 10 women (12%) say they do not wear face make-up, rising to one in five (19%) women aged over 55.
Indeed, Mintel's research shows that usage of colour cosmetics drops significantly with age. Overall, 88% of women use face colour cosmetics, rising to 93% of 16-24 year olds, usage drops to just 81% for 45-54 year olds compared to 91% of 35-44 year olds. Eye liner, concealer and lip liner show the biggest decline in usage among a mature female audience. Whilst overall 73% of female colour cosmetic users wear eyeliner, this falls to 47% of those over 55. What's more use of concealer and corrector amongst those aged 55 and over falls to 45%, down from an average of 61% and lip liner to 22%, down from 37%.
"Older women may find that product formulations no longer suit their skin type, highlighting rather than covering imperfections, as skin gets looser and less hydrated with age. Changes to skin and hair tone can also result in previously favoured shades no longer proving suitable, while a loss of dexterity in the hands can make product application more difficult over time. Brands can do more to target older consumers, from product formulations suited to older skin, advertising featuring older models, and older sales assistants at beauty counters." Roshida continues.
However, Mintel's research shows that there are still sceptical attitudes when it comes to advertising in the colour cosmetics category. Half (49%) of women who use colour cosmetics say that photoshopping makes is difficult to know what a product will look like in real life. What is more, a third (32%) say they don't believe looks in adverts are created by the cosmetics they advertise.