Local demand prompts launch of highly-anticipated new homes at The Maltings in Wallingford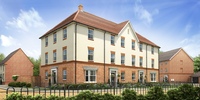 The wait is over for buyers wishing to view David Wilson Homes' brand new The Maltings development in Wallingford.
Set in a sought-after location on the River Thames, The Maltings offers the best of both worlds, within a peaceful setting but near to all local amenities. And local demand for new homes has prompted the five star housebuilder to launch its impressive new development.
"Already, we are receiving a tremendous level of interest in this wonderful development,' said sales director, Rob Allen. "The team here is excited to be welcoming our first visitors to this stylish selection of two bedroom apartments and three and four bedroom houses.
"We know there is a high level of demand from local people wishing to buy new homes here in Wallingford - so we expect these beautiful designs to be snapped up swiftly. Anyone wishing to come and visit us should register soon, to secure their chance to buy one of these stylish properties."
Buyers at The Maltings will be treated to a host of local services – including schools and shops – nearby. And commuters will find easy access to local towns and cities.
"We always think carefully about location when planning new developments," added Rob. "And this is a perfect place to call home – it is has an excellent setting and the homes are designed to fit perfectly in with their surroundings."
The Maltings is perfect for buyers looking for a quiet, relaxing setting to call home - just a short distance away from nearby towns and cities.