Winter waiting lists already in place for Mallorca's shipyards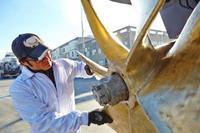 Mallorca's shipyards are facing one of their busiest maintenance and refit seasons since the economic downturn and waiting lists are already in operation. 25-year-established easyboats, who set up its brand new maintenance and refit division last year, is urging boat owners to make some fast decisions.

Lorenzo Vila, Director of Port Andratx-based easyboats, said, "Mallorca is becoming quite the hotspot for yacht repair and the Island already employs 3,000 well-paid highly-qualified individuals in this sector. This year Jose Maria Campuzano, CEO of STP, one of Palma's leading shipyards, stated that yacht maintenance and refit generates over 150 million euros income for Mallorca each year with great potential for further growth. He said between 2008 and 2015 the number of yacht repair companies had grown 121%, the number of employees by 171% and the amount of space occupied by boats under repair by 175%. Great news for the industry, not so great for boat owners who have to decide upon their winter maintenance plans sooner rather than later."
Having managed two substantial refits in 2014/15, including a six-figure project on a Mangusta 80, easyboats already has an additional two six-figure projects confirmed for 2015/16. The Mangusta 80 is back for stabilisers, underwater lights, a new air-conditioning system and new teak throughout, while a Lobster 62 is having a swim platform extension, hydraulic passerelle fitted, new fuel tanks, autopilot and a hull respray. In both cases easyboats will be partnering refit experts Tecmarine.
Paul Hamill, Managing Director of STP-based Tecmarine, says, "There are certainly a lot more vessels opting to stay in Palma for refit this winter. At STP, berths in water and on the hard are filling up rapidly with a waiting list in place in some cases. At 105,000m² in area and with a 700-tonne travel lift and capacity to work on yachts up to 120 metres, STP is one of the biggest most modern yards in the Mediterranean and most major yacht companies have a base there or nearby. This means refits can be carried out efficiently, to strict timeframes and high standards. Easily accessible at the geographic centre of the Med, we also have great weather and zero strike action to contend with. Little wonder Tecmarine is bracing itself for a busy one."
Closing a gap in easyboats' portfolio of services, a logical addition to charter and brokerage, the Company can handle everything from a routine anti-foul to an entire interior and exterior remodelling alongside regular guardiennage packages and wet- and dry-storage solutions. Using a very hands-on approach to project management, easyboats keeps a close eye on workmanship, timelines and budgets and deliver regular reports (including close-up photography) to make clients feel both at ease and in control – even from a distance.
For further information on yacht charter, sales, management, maintenance and refit, visit easyboats.com.