10 unique team building events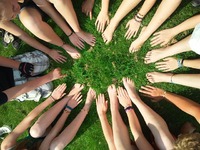 A recent study has shown that more people than ever are choosing to work from home, either as freelancers or as part of a more relaxed office environment that allows you to work from where you are most effective. Although this may seem like a dream scenario for some, there are some downsides to being able to work in your pyjamas! Working from home takes away the ability to work closely with a team and a recent article in Business Inquirer highlighted that it can cause some workers to get the blues.
Whether you are a boss wondering how to bring your workers back into the fold or a worker planning on getting to know your colleagues face to face, there are plenty of unique team building activities that will really throw you in at the deep end. Forget the usual ice breakers and building bridges out of old toilet roll holders, the team building industry has really stepped its game up. Here are our 10 favourite ideas for bringing your team together.
School Sports Day
The perfect way to bring back some competitive nostalgia! Break into teams and organise old school events such as a three legged race, hula hooping and of course, an egg and spoon run!
White Water Rafting
What better way to encourage trust between colleagues than taking to the rapids? There are plenty of courses around the UK that offer great team building days that involve really getting wet!
Disco Dodgeball
A fairly new idea, but a really fun one for those looking to enjoy great tunes and a little competitive spirit. Play a game of dodgeball whilst grooving to 70's tunes, get everyone to dress up in costumes to really make it a day to remember.
F1 Pitstop Challenge
The ultimate race against time! Do you think your team can successfully change an F1 wheel? Extreme Adventure runs a challenge to see who can change a wheel under pressure, using original Formula 1 parts.
Bubble Football
Football with a twist. Your team will immerse themselves in plastic bubbles and play a good old fashion game of footie. Be warned, the bubbles will lead to hilarity as teams try and push each other over.
Foot Golf
If your sports mad team fancies trying something new, how about taking part in Xtreme Events Foot Golf? Combining two popular sports this challenge will see team members try and kick a football into a hole, a bit trickier than a normal hole in one and made even more fun with the forfeits involved.
Volunteering
Something a little different but equally as fun and rewarding for your team. Why not see if there is a local charity nearby that could use some extra hands? If you don't mind getting your hands dirty, head to a local animal sanctuary and really muck in.
Team Run
Perhaps one of the fitter workplaces, however still a great team challenge. Find a local 5k run that you can take part in as a team, this will allow encouragement between team members and also a little competitive spirit as each person tries to get the best team. Why not run in aid of a local charity to make it even more rewarding?
Tree Top Adventure
If you have a head for heights, why not head to one of the many tree top adventure courses in the country? This event will really create solid bonds as teams try and navigate the trees using platforms, rope bridges and zip lines. Not for the faint hearted, but definitely a great day out!
Cocktail Masterclass
Finally, who doesn't love a good cocktail? Many local bars run cocktail classes that take you through how to make the classics and also one of your own. Split into two teams and create a cocktail that really sums up your workplace. Let the boss choose a winner and also get the next round!