Bamboo Travel sets sail for Sulawesi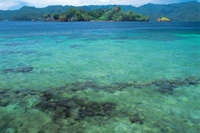 Multi-award-winning Asia specialist Bamboo Travel has introduced a brand new tour, Highland & Islands of Sulawesi, to discover this remote and vast island located in the north-east of the archipelago.
Sulawesi has long been a draw for intrepid travellers and, due to its shape, you are never further than 100km from the sea (the same as the UK) and its mountain ranges and thick jungle which dominate the island's interior, have provided the perfect environment for several distinct ethnic groups to flourish over the centuries.
The trip commences with a two-night stay in the Republic of Singapore which was founded in 1819 by Sir Stamford Raffles as a trading post of the renowned East India Company.
After two days exploring at leisure, a short flight takes you to the ancient port of Makassar in the southern highlands to discover a unique cultural heritage linked to the locals' elaborate funeral ceremonies.
The itinerary moves on to the lands of the Buginese Kingdom, one of the largest ethnic groups on the island originating from China who are known for their seafaring skills, to spend time relaxing on the undeveloped stretch of coastline around Cape Bira on the island's south western tip.
Another short flight takes you to Manado where you will head for the Minahasa Highlands to visit the exotic local market in Tomohon, and explore a dramatic landscape dominated by volcanoes (up to 7000ft in height), rice paddies, sulphur lakes and hot springs.
The holiday finishes in style at a barefoot luxury resort in the Bunaken National Marine Park off the northern tip of Sulawesi, a dreamy archipelago with pristine white sand beaches and warm, crystal clear water.
The waters of Bunaken National Marine Park are over 1500m deep in places and are home to a high diversity of coral, fish and echinoderms (sponge). Seven of the eight species of giant clams in the world are found in Bunaken and the abundant waters attract scuba divers from every corner of the planet.
The holiday costs from £2795 pp (two sharing). This includes international and domestic flights, all transportation and tours on a private basis, 16 nights' B&B (plus seven lunches and five dinners) and a private, English-speaking guide.
For more information, visit bambootravel.co.uk.
Bamboo Travel offers holiday itineraries to Tibet, China, Thailand, Vietnam, Cambodia, Laos, Myanmar, the Philippines, Indonesia, Borneo, Malaysia, Japan, Mongolia, Sri Lanka, Taiwan and Bhutan. Every trip can be tailored depending on personal requirements.