4 ways to predict your proposal: The engagement ring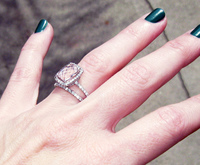 No matter how or when your husband-to-be decides to 'pop the question', there's certainly one question that stands out among all others: What engagement ring is he going to choose?! You're surely dying in anticipation, and in an attempt to calm the nerves, we give you a practical 4-part guide on how to 'guess'; take a guess based on his personality!
The Traditionalist
If your guy is the type who wants the perfect family and life together, much like you see in the many romantic comedies and Disney movies, then it is fair to say we can call him a traditional personality type - especially when it comes to marriage! He envisions his life with you to follow that perfect structure, and for the tried and true traditionalist, wouldn't it makes sense he chooses the classic diamond engagement ring? Tradition at its finest!
The Artist
Steering to the opposite side of the spectrum from the Traditionalist, your man is an 'artist' of sorts, where everything in his world follows a creative path that is far from the norm. This personality type is certainly intriguing, and it can be hard to pinpoint what his decision may be, but we suggest it be nothing typical, and perhaps a bespoke engagement ring (like this sapphire engagement ring!), customized to fit your relationship together? Truly unique!
The Perfectionist
For the man who wants all aspects of his life to follow a perfect path, from his work, to his home, his vacation plans, and most importantly - you - there is certainly no room for error! Considering his wife-to-be's ring is one of his most important life decisions he'll ever make, he will most likely opt for the decision of many modern couples, and purchase the ring with you! Perfection, guaranteed!
The Showoff
Your guy is all about the 'bling'; he has the nice car, the prominent career, the Rolex watch to go with it, the overall lifestyle - he's got it all! He likes to show of his success, which is probably why you fell for him in the first place, so what could this mean when it comes to your engagement ring? To give the real impression of 'showstopper', you could expect a custom replica of one of the many celebrity engagement rings! Can't get more flash than that!
Whichever the case, just remember, you've found your perfect man, so the engagement ring to follow should but nothing but ideal - nothing but perfect (just like you!).