New TV design to move televisions off the wall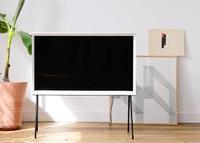 Created by prestigious French designers, Samsung Serif TV offers a stylish new way to watch that is set to revolutionise the at-home entertainment experience.
Designed by celebrated French designers Ronan and Erwan Bouroullec and launched at London's Design Festival in September 2015, Serif TV is set to make waves in the consumer electronics category.
Created to work as a piece of furniture as much as a piece of technology, Serif TV, which will be made to order, is a move away from the ubiquitous black box, ultra-slim panel design of today's televisions and an example of Samsung commitment to continually challenge and change the consumer electronics market. The shape of the TV is defined by its side profile; mirroring the silhouette of a capital 'I' complete with typographic serif details to form a solid footing for the base, as well as creating a small shelf on the top.
Seen from the front, Serif TV is defined by a single frame, one colour and one shape. Serif TV and Serif TV Medium come with a stand of four attachable tubular legs enabling the TV to be freestanding in a room. Both sizes, as well as Serif TV Mini, have a solid flared footing which acts as a stand when placed on a piece of existing furniture and a removable colour-coordinated, fabric-covered back panel conceals the ports and connectors creating a sleek finish from every angle.
A new, custom-designed UI includes a unique digital curtain, which applies a digital filter to live content, turning it into subtle abstract patterns. The editable Curtain Mode also forms the backdrop for the new menu, a Bluetooth speaker and a clock.
"We are excited to see how people incorporate Serif TV in their own living spaces. The fabric back panel detail combined with its ability to be freestanding increases where the TV can live in the home. We anticipate that Serif TV owners will move their TVs away from the wall – perhaps positioning it in the middle of a room or even moving it around like a modular piece of furniture," comments SVP Yun-Je Kang, Samsung Head of Design in Visual Display.
Available in three sizes and three colours, the new designs are made to order with a maximum delivery time of 3 weeks and are available to buy online at SerifTV.com.
Serif TV will also be available to experience in showrooms around the UK – see seriftv.com/retailers for details.