Rising trend of homeowners choosing to work from home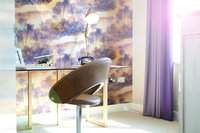 Homebuyers in Oxfordshire can enjoy the added luxury of being able to work from home in the study room at a Bloor Homes development.
At the Feldon Chase development in Adderbury, Bloor have study rooms fitted as standard at the front of each home, with some situated over the garage, and a good-sized window allowing for plenty of natural light to enter the room and encourage a positive working environment.
According to a survey conducted by Forbes, having less distractions helped 44 per cent of people who worked from home, and avoiding rush-hour traffic on the morning commute to the office benefited 47 per cent of those who use a home office.
Vanessa Macnee, Regional Sales Director for Bloor Homes, said: "Being comfortable in your home is an absolute priority for all buyers, and our homes at Feldon Chase are ideally designed for those who prefer to work from their own home office.
"All of our study rooms are built to be in an enclosed space, ideally suited to be turned into a home office, where those who choose to do so can work from home in a quiet, peaceful environment with minimal distractions."
The Forbes survey also noted that 29 per cent of people working from home benefited from being able to spend more time with family, while a further 43 per cent enjoyed having a quieter working environment.
There are four homes currently for sale with Bloor in Adderbury, a collection of four and five-bedroom properties ranging in price from £445,000 to £595,000.
For more information on the homes available at Feldon Chase, visit the Marketing Suite open daily between 10am and 5pm, or visit bloorhomes.com.