Quark Expeditions announces Adventure Week at Arctic Watch Wilderness Lodge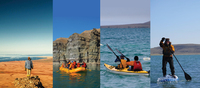 Quark Expeditions, the leading polar adventure company announces a week full of exciting activities to ramp up the adventure and exploration at Arctic Watch Wilderness Lodge, during week one of the summer programme.
Guests departing on 30th June 2016 for the Adventure Week can explore the region on their own steam with special activities such as fat biking on sea ice; sea kayaking on the Northwest Passage; stand-up paddleboarding through challenging Google Canyon; an all-terrain vehicle "ride and hike" through spectacular Mars Mountain; trail running atop the bluffs and tundra of the Northwest Passage, and more. This is in addition to the lodge's popular array of complimentary activities.
"There are so many ways to explore this magnificent region," said Tessum Weber. "We now have fat bikes – specialised mountain bikes – that provide fantastic agility on sea ice and tundra. Stand-up paddleboarding provides amazing perspectives for exploring canyons 154 meters deep and gliding past ice floes. Kayaks are ideal for paddling rivers and swift rapids. And now, you can enjoy this diversity of activities, in the Arctic."
Arctic Watch specialises in providing an immersive arctic experience. Founders and hosts, famed arctic explorer and Order of Canada recipient, Richard Weber, and his wife, Josée Auclair have led expeditions to the North and the South Poles. Their sons, Tessum and Nansen, grew up in the Arctic, and return to Arctic Watch lodge every summer to share their passion for the region with guests.
"We're especially enthusiastic about Adventure Week. From the distinct Fat Bike Tours and the Super ATV Expedition, to the Running the Ridge Trail Run and Google Canyon Stand-up Paddleboarding & Hike, to the All-Terrain Journey & Hike to Mars Mountain - each activity provides a novel, exciting new way to explore the North," Richard said. "Guests will experience the true Arctic from an active and completely unique perspective."
Quark Expeditions and Arctic Watch Wilderness Lodge began partnering in 2014 to offer a land-based polar safari experience.

"Arctic Watch has already been described as a 'best of the Arctic' tour because of the variety of wildlife and landscapes guests experience," said Andrew White, President of Quark Expeditions. "It provides an opportunity to see the Arctic through the eyes of real explorers. The caliber of the leadership involved in this polar expedition is outstanding."

How to Book: Save up to 20% on select departures – including Adventure Week. See Quark's Way to Save page for full visit quarkexpeditions.com. Save 20% where prices started a £4100 per person based on 8 days, now start from £3,280. Flights not included.