Sony Bravia 4K HDR - Stunning pictures and elegant design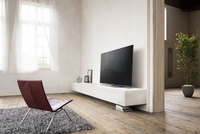 Sony TV takes your 4K HDR (High Dynamic Range) viewing to the next level in 2016 with higher brightness, higher contrast and vibrant colours, resulting in more depth and detail than ever before – made possible with Sony's unique technologies. Bravia also brings signature style and exciting new connected entertainment experiences into every living room with Android TV.
HDR, a new standard of brilliance
HDR support is included in many of the new 4K Bravia TVs, ready to take advantage of the new wave of HDR enabled content coming from Internet video services like Amazon Video and Netflix, movie makers and broadcasters. Accommodating a greater dynamic range of brightness levels than Standard Dynamic Range, content shot, processed and distributed in HDR takes you a step closer to real life with spectacular contrast and colour reproduction.
The new and unique Slim Backlight Drive debuts with the hero Bravia XD93 series, it is a new grid-array backlighting system that was previously only achievable with full-array LED backlight systems. Combining it with X-tended Dynamic Range PRO, it will boost and dim the backlight to create brighter peak highlights and deeper blacks with up to three times the brightness range of conventional TVs. This technology manages the light source more accurately in each specific zone while still maintaining a slim profile.
Also unique to Sony and enhancing the HDR picture is TRILUMINOS Display which reproduces a wider colour range with accurate colour details at any brightness level.
4K Processor X1, Sony's advanced image processing engine, enhances colour, contrast and clarity, improving the quality of 4K images, taking every scene to the vividness of 4K and beyond.
Sleek new 'Slice of Living' design
Bravia looks better than ever, with a sophisticated 'Slice of Living' design concept that merges effortlessly with today's interiors. Clean, geometric shapes capture the essence of modern living, with accents in champagne gold and silver adding extra warmth and personality.
The beautifully slim, sleek lines of the Bravia XD93 are accentuated by its stepless, virtually bezel-free screen. When hung against the wall the television is so close that it can appear to be flush to the wall. When the television is set on a TV stand or a cabinet its clean cable management keeps wires out of sight and looks equality elegant when viewed from the back or front.
Bravia SD85 makes fabulous 4K entertainment more immersive with its gently curving screen that pulls you right into the action. It's the thinnest curved 4K Bravia yet.
Do more with Android TV
Google Play lets you explore a huge range of big-screen apps, games, entertainment and more. You don't even need a TV aerial connection to access apps over the network.
Sony's exclusive Content Bar allows customers to access content quickly and intuitively without any disturbing while watching TV by enhancing and shortening content direct access.
It's easy to see smartphone content on the TV screen with Google Cast. Touch the 'Cast' icon and send what you're watching - like movies and TV, YouTube, photos or hundreds of other enabled apps – from your Android/iOS device to view on Bravia without missing a beat. Google Cast is supported by some applications which are not yet available for Android TV.
Say it and Android TV will find it. Now integrated into the main remote control, Voice Search gives you all the answers. Just push the 'Voice' button and speak to search for movies, programmes and other content; or tell Bravia to change channels, switch inputs and more.
This year's range of Bravia 4K Ultra HD televisions from Sony is available in Europe from spring 2016.