Travel The Unknown ventures into Bhutan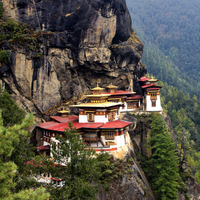 Travel The Unknown has launched a dedicated Asia brochure that features trips to India, Myanmar, Vietnam, Cambodia, Laos, Philippines and, new for 2016, Bhutan.
The small group trips range from five to 21 days in length. Private tailor-made options are available for all destinations for those who prefer to design their own itineraries. Bhutan is great as a stand-alone destination, but can also be added as a natural extension to any of Travel The Unknown's North East India or West Bengal (Kolkata and Darjeeling) tours.
Rahul Aggarwal, founding director of Travel The Unknown comments: "Our programme to Asia has grown to such a degree that we thought it deserved a separate brochure.
"Our whole raison d'etre is to show our customers a side of a country that they will not find in other tour operators' brochures, but without compromising on all the classic sites.
"For example, our new Bhutan programme includes the 14-day Best of Bhutan tour that gives one the chance to traverse the country from east to west, combining culture with country walks and wildlife spotting, under the dramatic backdrop of the Himalayas. And we will definitely be visiting a festival, if any one of Bhutan's myriad of colourful festivals are taking place whilst we are there."
Here is a brief synopsis of the three new tours:
Western Bhutan Explorer: 11 days from £2,295 pp (departing 6 November)
Discover the west of Bhutan, a country considered to be the happiest in Asia. Highlights include learning about Bhutanese art and culture in the museums of Thimphu (and seeing the largest published book in the world), enjoying rural walks in remote valleys and mountain passes, visiting remote dzongs and Buddhist gompas, and walking with pilgrims to the iconic Tiger's Nest monastery.
Bhutan's Hidden East: 13 days from £2,595 pp (departing 31 October)
Highlights include discovering the flora and fauna of Bomdeling National Park, meeting the textile weavers of Khoma, exploring Bumthang's valleys by foot, hiking up to the iconic Tiger's Nest Monastery and visiting the sacred sites of the Paro Valley.
Best of Bhutan: 15 days from £2,695 (departing 3 November)
A comprehensive journey across Bhutan that combines the highlights of the East and West and coincides with the colourful Mongar and Black Neck Crane Festivals.
All three Bhutan trips include the visa, all meals, ground transportation, accommodation, activities as per individual itineraries, entrance fees and an English-speaking escorted guide. Flights are extra, bookable through Travel The Unknown (fully bonded for financial protection).
For more information, visit traveltheunknown.com.