Travel The Unknown expands in Iran and The Balkans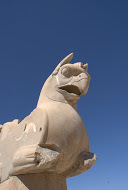 Small group adventure and cultural holiday specialist Travel The Unknown, has launched a dedicated brochure for Europe, the near East, Middle East, Africa and Latin America.
David McGuinness, founder and director of Travel The Unknown comments, "Our expansion is largely based on where our adventure-seeking clients tell us they want to go. Iran has always been a popular destination, but since the nuclear agreement, the change in the FCO advice and the re-opening of the embassy in Tehran, we have seen interest in our tours go through the roof.
"We have been fed so many negative news about Iran in recent years, that it is easy to forget that the country is incredibly rich in ancient temples and artworks, mosques, fortresses and striking monuments, each with its own story to tell.
"On top of the sights, Iran is also home to some of the warmest, friendliest and most hospitable people I have met anywhere in the world.
"The Balkans is another diverse region with a recent troubled past, which is welcoming discerning tourists that seek an eclectic mix of history, culture, beauty and adventure in Europe's hidden corners.
"The itineraries are a genuine journey of discovery as you trace the paths of the Romans, Byzantines, Persians, Ottomans and Soviets – all of whom have left their mark."
Glories of Persia: 16 days from £3295 (save £300 pp) – The 16-day 'Glories of Persia' is an archaeology-themed itinerary and one of Travel The Unknown's most popular. Highlights include the Ancient Wonder of Persepolis, the incredible site of Susa, the Classical glory of Hamadan, the ancient rock-carvings at Tagh e Bostan, the poetic city of Shiraz, the Towers of Silence in mud-brick Yazd and the Archaeological Museums. The holiday departs on 17 September and 15 October and costs from £3295 pp – a reduction of £300 pp (two sharing). This includes flights, all transportation, 15 nights' accommodation, breakfasts, entrance fees to sites and museums and a tour leader/guide.
Balkan Explorer (Serbia, Macedonia, Albania, Kosovo, Montenegro & Bosnia): 20 days from £3260 pp (save £500 pp) – new for 2016, the 20-day Balkan Explorer provides a chance to discover six countries located in a little-known corner of Europe. It is rich in history and tradition and boasts a variety of languages, customs, landscapes and vibrant cities. Highlights include visits to Albania's stone cities, Serbia's Orthodox monasteries and Bosnia's intriguing capital city and famous bridge. There will also be a chance to taste wines in Macedonia, admire Ottoman architecture in Kosovo and to explore Montenegro's wild nature and beautiful coastal towns. The holiday departs on 4 June and 1 October and costs from £3295 pp - a reduction of £500 pp (two sharing). This includes flights, all transportation, 19 nights' B&B (plus one lunch & one dinner), entrance fees and tour guides.
For more information, visit traveltheunknown.com.