Top active breaks in the Austrian Tirol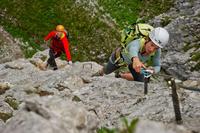 Now the snow has melted away, the mountains show a different side and open up a multitude of summer activities. Here are 5 of the best breaks for summer 2016, including an Alpine Sports Week in the Wilder Kaiser, Tirol's first Yoga Festival in St Anton am Arlberg, an e-biking festival, a new wakeboarding area at Area47 and a new self-guided hike with HF Holidays.
Alpine Sports Week in Wilder Kaiser
The Wilder Kaiser region in the Austrian Tirol is offering a special Alpine Sports Week, where you can try your hand at six different mountain sports over six days with like-minded people. From 18th – 25th June 2016, you can experience various sports under expert instruction, try the Via Ferrata on the Jubiläumssteig and newly built Klammlsteig, challenge the legs to a mountain bike tour, head high on the High Rope Garden course, go canyoning through the deep gorges and test your stamina trail running. Come evening there are various social events taking place where you can swap stories and from the day on the mountain. All participants are divided into different groups, depending on their ability.
Holidaymakers and visitors to the region are able to sign up for the Alpine Sports Week 2016 and have a go at six mountain sports for just €139 per person (normally €390). There are several packages available including accommodation, breakfast and the Alpine Sports Week package starting from € 289 per person. Closest airports are Innsbruck (50 miles), Salzburg (51 miles) or Munich (68miles).
For more information visit wilderkaiser.info.
Yoga Mountain Festival
New in St Anton am Arlberg this summer will be the first Yoga Mountain Festival, taking place from 1st – 4th September 2016. Take your yoga practice to the mountain this summer, feel the grass under your feet, the mountain air penetrating deep into your lungs and the sun warming your skin as you leave everyday life behind. The 4-day programme will incorporate different yoga styles from relaxed to challenging practice, held by international and national teachers and will include various yoga workshops, yoga talks and market stalls.
St Anton am Arlberg is one of the most famous ski resorts in the world but during summer there isn't a shortage of things to do. Explore the network of over 300km hiking trails, hire a mountain bike and pedal hard before recharging your energy at one of the mountain huts or maybe try something more out of your comfort zone like canyoning, rafting or paragliding.
Stay at the 4* Hotel Grieshof for 4 nights on half board, with prices from €356 per person in a double room, including a 4 day festival ticket. More festival packages can be found here. Closest airports are Innsbruck (62 miles), Munich (117 miles) or Zurich (122 miles).
For more information visit stantonamarlberg.com
Largest E-biking region in Austria

The best place for e-biking is the Kitzbüheler Alps, the largest e-bike region in Austria and possibly the world! There's over 1,000 km of cycling trails, 310 e-bikes, 43 rental stations, 80 battery replacement stations and seven service-bike-specialist shops in this region. The tourist region of the Kitzbüheler Alps is home to over 20 holiday villages, including Brixen, Kirchberg, Hopfgarten, Westendorf, Fieberbrunn and St Johann in Tirol.
The 4* Hotel Metzgerwirt in Kirchberg offers a 7 day e-bike package, with prices starting from €584 per person on half board and includes e-mountain bike hire, 1 guided E-mountain bike tour, 2 x laundry service for bike clothing, daily cyclist snack (muesli bar, fruit and a bread roll). Closest airports are Innsbruck (53 miles), Munich (79 miles) or Salzburg (55 miles).

Kirchberg is also home to the 3-day E-Bike Festival in the Kitzbühel Alps from 1st – 3rd July 2016, and the programme includes themed leisure cycling tours, speed-testing-sessions, biking safety courses, an electric bicycle night-tour and more.
For more information visit kitzbuehel-alpen.com
New wakeboarding lake at AREA 47, Otztal
Located at the entrance to the Otztal, Area 47 opened six years ago and has become one of the most unique outdoor adventure parks in Europe, offering the ultimate in climbing, canyoning, rafting, watersports and more. New for 2016, a 19,000m2 large lake will open for wakeboarders and become the first Wakeboard-Centre in Western Austria. With five masts and a lift distance of 420m, the cable system can tow up to six wakeboarders at a time around the lake. All standards of wakeboarder are catered for, with trained guides and pros to assist, as well as a variety of kickers and boxes for experts to perform tricks and jumps off. If that's all too much and you would rather just watch, then enjoy the stunts from the roof terrace of the new Wake Café.
A 4 night, 5 day action package starts from €372 (£286) per person in a double room and includes testing your balance 30m above ground on the high rope course, enrolling in rafting college on the River Inn or heading deeper underground canyoning, there's acrobatic action swinging across the Otztaler Ache on the 'Megaswing' or flying 400m across Area 47 on the Flying Fox as well as access to the water area, which has a giant waterslide park, a 27 m high diving tower and a 15m water ramp for tubing. Closest airports are Innsbruck (48 miles) or Munich (115 miles).
For more information visit area47.com; oetztal.com
New for 2016 - Self-guided hiking in Weidach and Mayrhofen with HF Holidays
New for 2016, HF Holidays has introduced a new self-guided walking holiday at Weidach, located on the Seefeld Plateau and self-guided walking holidays at Mayrhofen . These holiday offers guests the chance to explore independently, at your own pace, following the carefully planned walks. Explore the contrasting scenery, from crossing flower-filled meadows, through deep coniferous forest to dramatic gorges, walk to the dramatic Hintertux Glacier, walk to the beautiful lake at Wildmoos and of course there are many Alpine huts along the way to reward yourself with traditional coffee and cake. Each daily walk covers between 4 – 7 miles, with a maximum ascent of 360m in a day.
These 7 day holiday starts from £599 per person at 4* family-run hotels on B&B, including flights from Heathrow or Manchester to Munich and resort transfers. Price also includes a full programme of specially designed walks, a comprehensive pack with maps and detailed route notes and all transport to and from walks. Departs on selected dates between 25th June – 24th September 2016. To book call HF Holidays on 0345 470 8558 or visit hfholidays.co.uk.
For more information on these area visit seefeld.com and mayrhofen.at
Flights
Innsbruck is the closest airport to all the resorts mentioned and is served by easyJet (easyjet.com) from London Gatwick. Alternatively fly to Munich airport, which opens up a host of additional UK regional airports and is served by Lufthansa (lufthansa.com) from Southampton, Bristol, Birmingham and Manchester, by British Airways (ba.com) from London Heathrow, by easyJet (easyjet.com) from Manchester, Gatwick, Luton and Edinburgh, by BMI Regional (bmiregional.com) from Southampton and Bristol and by Flybe (flybe.com) from Cardiff. Affordable resort transfers are available through Four Seasons Travel (transfer.tirol.at).
For more information on the Tirol region visittirol.co.uk or keep updated at facebook.com/visittirol or @VisitTirol on twitter