Explore Georgia in 12 days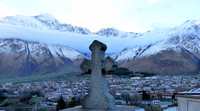 Discover the charms of Georgia on Travel The Unknown's 12-day small group 'Georgia Explorer' trip, departing 13 October 2016.
The itinerary is perfect for the first time visitor and gives a chance to discover Georgia's stunning landscapes, myriad of churches, sprawling medieval fortresses and UNESCO world heritage sites; not forgetting its great cuisine and generous hospitality.
Georgia has endured a diverse and, at times, painful history. It was the target of many invading armies, from the Persians to the Ottomans, and the more recent imprints of Soviet occupation. All of this will be explained throughout the holiday.
The itinerary will also provide an opportunity to get under the skin of the local culture by learning how to write your name in Georgian, making traditional breads and sweets and cooking some traditional Georgian recipes.
On day five of the itinerary, the group will drive to Mtskheta and visit Jvari Monastery and Svetitskhoveli Cathedral. Mtskheta is one of Georgia's oldest cities and is located a short drive north of the capital, Tbilisi.
Located within the city (which is a UNESCO World Heritage Site) is the Svetitskhoveli Cathedral, one of Georgia's largest places of worship. The site, surrounded by a defensive wall, has housed churches since the 4th century, but the standing building was constructed in the early 11th century and artfully restored in the 1970s.
According to Biblical canon, Christ's robe was carried to Mtskheka after his crucifixion and is been buried beneath the cathedral. Inside, a painting illustrates the buried garment and the miracle of a pillar rising into the air during the church's construction.
Other highlights will include:
A guided walk through the picturesque narrow streets of Tblisi's old town
Exploring the beautiful wine-country of Kakheti
Listening to traditional Georgian polyphonic singing
A drive to just south of the Russian border for panoramic views of Mount Kazbek
The holiday costs from £1995 pp (two sharing) – a reduction of £200 pp. This includes international flights, all transportation, 11 nights' half-board accommodation (plus one lunch), entrance fees, guide and drivers.
For more information, visit traveltheunknown.com/georgia.