Warning on the dangers of squatting on the high street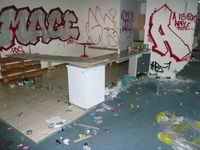 Professional squatters are now targeting vacant retail units as the new law making occupation of residential property illegal, displaces the problem onto the high street, warns Simon Broadbent, CEO of Secure Empty Property.
The company has seen a spike of High Street and retail units facing sustained attack from squatters and leaving the owners with significant costs. Once targeting residential property, the police now have powers to evict squatters and illegal occupiers without tenancy agreements from residential property. This has increased pressure on vacant retail units and commercial property initially in London and the South East but increasingly in the Midlands and North West too as a squatting 'ripple' moves out from London.
The effects on the property can be devastating. From minor damage to entry doors through to wholesale vandalism of the fixtures and fittings and systematic removal of high value items such as copper cable. This can leave the owner with bills of thousands of pounds. On top of this, the impact upon the business reputation, business interruption, delays in disposal or refurbishment of the property can be business critical.
Property owners forget to check the policy terms of their insurance when a retail or commercial outlet becomes vacant. They may find that after just 30-days, their protection diminishes to only FLEA cover – Fire, Lightening, Explosion, Earthquake and Aircraft perils. So any squatting or vandalism costs come out of the bottom line. Secure Empty Property work with the insurer initially providing a free risk survey to identify risks and provide cost effective solutions to maintain insurance cover. This can range from physical and electronic security through to weekly inspections, isolation of utilities and drain-down of water systems. Sophisticated alarm technology means that even without mains power, the property can be monitored for intruders and smoke 24-hours a day with a fast-response team dispatched to any activation.
Secure Empty Property was set up in 2012 by its Chief Executive Simon Broadbent, who has more than 25 years' experience in the industry. It now employs 27 people and is the fastest growing business of its type in the UK. The company is backed by Enterprise Ventures, which manages The North West Fund for Venture Capital which in turn is financed by the European Regional Development Fund and the European Investment Bank.
The company provides rapid-response security services such as steel shuttering, temporary security and alarms to clients nationwide. Its services help prevent vandalism, squatting, arson and theft from empty properties, and protect landlords against liability for trespassers.
Secure Empty Property Chief Executive Simon Broadbent says, 'We urge property owners to be pro-active in their approach to squatting risks in vacant property. By involving both the insurer and specialist companies like Secure Empty Property, risk can be mitigated and expensive mistakes avoided'.
For more information, visit secureemptyproperty.com.