Chocolate, chillis and red wine: The nation's favourite mealtime boosts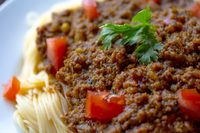 Brits are boosting their favourite dish of spaghetti bolognese … with chocolate.
A survey of 2,000 adults found that although over half of the country says the spaghetti based meal is their all-time best, many customise it with their own flavours.
Eight in 10 people never use a recipe when creating the dish, and 56 per cent regularly improvise – adding Worcester sauce, ginger or even chocolate to the dish.
Other popular additions to the nation's favourite meal include olives, gravy and paprika.
Folk also add bacon, lentils, kidney beans and baked beans or – for a healthy option –
carrot, celery or courgettes.
A spokesperson for Sacla, which commissioned the research, said: "Spaghetti Bolognese is a family classic, but the best thing about the dish is its versatility.
"You have the base ingredients of beef mince, tomato sauce and spaghetti, but after that it really is down to the house chef to add in whatever is in the cupboard.
"This is why mums and busy professionals opt to cook the dish on a regular basis; it's so quick and easy to make, and yet tastes great with whatever ingredients are available."
Four in 10 adults eat spaghetti Bolognese at least once a week, while the average person makes the dish twice a month.
More than a quarter of those polled claim NEVER to eat the same recipe of spaghetti Bolognese – while 27 per cent choose to experiment with the dish whenever they feel bored of eating the same thing all the time.
Other reasons for mixing up the ingredients a little include running out and having to find a suitable alternative (28 per cent) and just wanting to do something different every now and then (29 per cent).
One in 10 parents are more likely to add in unusual things like chocolate, chilli or tabasco sauce if the children are out and they're eating alone.
But 23 per cent admit a spaghetti Bolognese is a good way of getting vegetables into the children as they can "hide them" in the sauce.
One in 10 people say they'd be tempted to add more of a flair to the meal if they were serving it up to guests as part of a dinner party, and wanted to impress.
More than half of respondents say the meal is one of the few which the whole family can enjoy, and four in 10 people say it's their go-to meal when they can't think of anything else to cook.
Only six per cent of people have managed to make a spaghetti Bolognese completely unpalatable after adding their own ingredients – of these, too much chilli, garlic, green peppers, anchovies and vinegar were amongst the causes of bad taste.
The spokesman for Sacla added: "Everyone has their favourite and treasured Bolognese recipe and from time to time we all like to add some ingredients to give extra oomph.
"Sacla's Boost your Bolognese has more than 20 umami-rich ingredients mixed in to one easy to use little pot which will add flavour and depth to this repertoire dish – it's the ultimate spag bol must have."
The Nation's Favourite Bolognese 'Boosts'
1. Red wine
2. Worcester sauce
3. Chillies
4. Bacon
5. Celery
6. Grated carrot
7. Ketchup
8. Paprika
9. Pesto
10. Courgettes
11. Lentils / pulses
12. Tabasco sauce
13. Olives
14. Kidney beans
15. Baked beans
16. Gravy
17. Marmite
18. Chocolate
19. Brown sauce
20. Ginger