Brits are only using half of the ingredient in their kitchens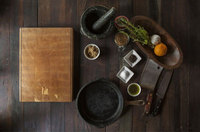 "Culinary cluelessness" is causing millions of Brits to neglect half of the ingredients in their kitchen, a new study has revealed.
One in five UK adults hear the word 'caper' and think 'fish', according to new research, while one in 10 people think star anise is a type of fruit.
In fact, 54 per cent of respondents admit that they've got dusty items that they needed to use once and then never used again, or was simply an impulse buy.
The research of 2,000 people found the average UK kitchen has 10 jars of spices or herbs in the cupboards – although only half of them get used regularly.
Spokesperson for Red Tractor Lamb, Nick White, said: "Brits cook at home around six times a week, and the results of this survey showed that very few are getting the most out of their kitchens.
"From ingredients to equipment, there's a huge difference in what people have and what they actually use on a day-to-day basis.
"At Red Tractor Lamb, we're on a mission to get Brits to make use of all those neglected items in the cupboard, and spice up their mealtimes with the versatile Lamb Keema.
"This spiced Indian lamb mince is the perfect dish to get experimenting with. Once the base recipe is mastered, the door is open to over 10 different dishes making important use of both new and forgotten spices!"
Of all the jars in the kitchen, nearly a third has been used just once or not at all, and a quarter of them are suspected to have long gone past their use-by-date.
And whilst being very common in Britain, 13 per cent of people have no idea cardamom is an aromatic spice.
Nick White continued: "There is plenty of education to be done in the kitchen as the survey results showed that 56 per cent of the population would like a better understanding of spice in their cooking, and just under half would use them more if they knew what to do with them.
"15 per cent of people say they never experiment with spices, which is far too low – we want people to dig into their cupboards, find an unused spice and try to create something special.
"That's why we at Red Tractor Lamb have created 'The Keema Sutra', to inspire people and give them access to a new world of flavours that may have been in their kitchen the whole time."