2007 Dyna line continues tradition of style and innovation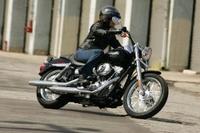 The Dyna models are pure riders' bikes with strong and deep Harley-Davidson custom roots. The new Twin Cam 96 engine, combined with 6-speed Cruise Drive transmission, active intake and exhaust for European models, fat 49mm front forks, 160mm rear tyres and frames designed for optimal handling ensures that every Dyna motorcycle is an exhilarating ride.
The new Twin Cam 96 powertrain proves there is no replacement for displacement with its 1584cc engine for improved power-to-weight ratio. While this delivers more lively acceleration, other design changes provide smooth operation at higher speed, easier shifting, low clutch lever effort and a rich sound.
The Dyna range also sees the introduction of a highly innovative and sophisticated active air intake and exhaust technology system developed by Harley-Davidson for European spec models* which significantly improves power, torque and sound quality whilst meeting European noise and emission regulations.
Dyna riders can choose from four models, all displaying Harley-Davidson custom lineage with an edge, featuring varied selections for handlebars, fenders, seating, engine treatment and chrome. All Harley-Davidson models for the Europe, Middle East and Africa region feature an upgraded security system as standard. The new Harley-Davidson Smart Security System offers hands-free operation courtesy of a proximity sensor that detects the presence of the security fob.
FXDC Dyna Super Glide Custom
Displaying plenty of chrome, the revitalised 2007 FXDC Dyna Super Glide Custom is a bold and beautiful motorcycle. In addition to its chrome features, the Super Glide Custom has a long and low profile, including a low-slung, two-up ribbed seat. Mini-pullback handlebars sit above a Fat Bob fuel tank with tank-mounted speedometer and ignition console. Powered by the new 1584cc Twin Cam 96 engine, the Super Glide Custom delivers smooth power through a rigid, agile chassis. A chrome laced front wheel is featured with a single floating brake disc. The Super Glide Custom is offered in eight solid colours and two, two-tone colour combinations and will be available in Europe from November 2006.
FXDB Dyna Street Bob
The 2007 FXDB Dyna Street Bob again proves less can be more taking minimalist styling from the "bobber" theme in the custom choppers of the 1970s. The Street Bob shuns components like a passenger seat and pegs. A solo seat at 655mm clearly states that this is a motorcycle for the individualist. Features like mini ape-hanger handlebars, the classic Fat Bob fuel tank, a wrap-around rear fender and chrome laced wheels combine with the Twin Cam 96 engine for a stylish and powerful ride with a whole lot of attitude. A wrinkle-black finish applied to the battery box, console and belt guard completes the street-wise look. The Street Bob is available in six solid colours and a new olive pearl/vivid black two-tone.
FXDL Dyna Low Rider
The word "low" describes much more than rider position when it comes to the FXDL Dyna Low Rider. While the 655mm seat height is among the lowest in the Harley-Davidson line, features like mid-mount foot controls and pull back handlebars also give the Low Rider its slammed looks and unique profile. The bike's ergonomics are well-suited to those looking for a comfortable ride, while the new Twin Cam 96 powertrain and active intake and exhaust system bring the Low Rider to a higher level of performance. It features chrome profile laced wheels and a single floating brake rotor displays more of the front wheel. The Low Rider is offered in seven solid and three two-tone colour combinations.
FXDWG Dyna Wide Glide
Inspiration straight from the open road takes the FXDWG Dyna Wide Glide to the edge of the factory custom category. The new Twin Cam 96 engine powers this truly stretched-out motorcycle for 2007. The Wide Glide is long and wide as its name suggests, with a 49mm fork that is raked out to 36 degrees and a 21 inch chrome profile laced front wheel. The bobtail rear fender shows off the traditional, 160mm tyre. Its 32mm factory ape-hanger handlebars with internal wiring rise above a stepped chopper-style seat and large, tank-mounted speedometer. The Wide Glide is offered in eight solid and three two-tone colour combinations.