Harley-Davidson VRSCDX Night Rod Special sells for $800,000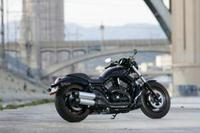 A Harley-Davidson motorcycle was amongst a host of exclusive items auctioned this week at a star-studded gala dinner in Doha, Qatar. The bike, a VRSCDX Night Rod Special, became one of the most expensive of its kind when it fetched a staggering $800,000.
Guests at the second 'Reach out to Asia' fundraiser shelled out a total of $11.25m on a number of exceptional items, including a match ball from this year's FIFA World Cup final and all money raised will go to help ROTA's work with UNESCO to promote education and community programmes across Asia.
The new owner of the motorcycle, the Crown Prince of Qatar, is the latest in a notable line of Harley-Davidson enthusiasts whose generosity knows no bounds when it comes to their passion for the iconic motorcycle brand. The $800,000 paid for the Night Rod Special is only $100 dollars short of the highest amount ever spent on a Harley-Davidson – a Road King model auctioned by Harley-Davidson fan Jay Leno on 'The Tonight Show', to raise funds in support of the Asian Tsunami disaster in 2004.
The Harley-Davidson Night Rod Special certainly seems worthy of the royal attention. Launched earlier this year, the motorcycle has sold out across Europe and recently achieved the coveted title of 'Cruiser of the Year', awarded by the UK's leading motorcycle publication, Motorcycle News. This is the latest in a line of over 30 awards, worldwide, for Harley-Davidson's V-Rod family of motorcycles.