Harley-Davidson cruiser scoops special award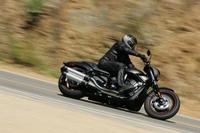 Motor Cycle News (MCN), the UK's leading motorcycle publication, has awarded Harley-Davidson's stunning new VRSCDX Night Rod Special 'Cruiser of the Year 2006'. This places the bike firmly at the top of a fiercely contested category and adds to the unrivalled collection of awards the iconic motorcycle manufacturer has collected over the years.
The Night Rod Special wasn't the only Harley-Davidson in the 'Cruiser' category. The Fat Boy was also a finalist, with the Night Rod Special seeing off competition from Kawasaki, Yamaha and Suzuki. The latest bike follows in the tyre marks of the revolutionary V-Rod which previously collected three consecutive MCN awards in the category. The introduction of the new motorcycle ensures that the family continues to make history, demand attention and challenge rider expectation.
Harley-Davidson UK marketing manager, Allan Brownridge, commented: "We're obviously extremely excited for the new Night Rod Special to have won this prestigious award. The V-Rod has gone on to win over 30 major awards world-wide and we hope that the latest addition to the family will receive the same recognition."
The blacked-out Night Rod Special retains the long and low street styling of the rest of the VRSC range but replaces brightwork with black – right from the heart. The machine's powerhouse, a 121hp, 1130cc, liquid cooled 60 degree Revolution V-Twin engine is finished in all-black with highlighted fins.
Taking in the rest of the profile, the eyes widen at the black slotted aluminium wheels with orange pinstripe. The frame, controls, forks and swing arm are all black and, likewise, the brushed straight-shot dual exhaust is black-capped with matching shields. The stunning black-on-black bodywork with racing stripe completes the image.
With rider onboard, the forward controls and black drag handlebars put you in a clamshell position and, when you leave the traffic for dust, with the last impression being the huge new 240mm rear tyre, the appearance is brutal.
The Revolution V-Twin engine is rubber-mounted with a single counter-balancer, dual overhead cams, four valve heads and five speed transmission. Running to a 9,000rpm redline it pounds out a maximum 108Nm of torque, ensuring that the Night Rod Special commands the tougher end of the power cruiser segment.
An ominous appearance is countered by the practicalities of a larger 18.9 litre under-seat fuel tank, high-performance Brembo brakes and the new Harley-Davidson Smart Security System – offering hands-free operation courtesy of a proximity sensor that detects the presence of the security fob.
The 2006 Cruiser of the Year recently rolled into Harley-Davidson showrooms throughout the UK, for details visit harley-davidson.com.