Smoother power leads Softail to a highly styled ride in 2007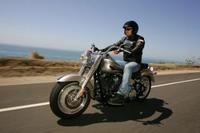 The Harley-Davidson Softail family of motorcycles exceeds its own high standards for custom design in 2007 by offering a wide range of innovation to its authentically styled product line.
Led by the new FXSTC Softail Custom model, Harley-Davidson Softail motorcycles offer the new Twin Cam 96B engine, 6-speed Cruise Drive transmission, Electronic Sequential Port Fuel Injection (ESPFI), 200mm wide rear tyres on several models and a FLSTF Fat Boy model revised from top to bottom. The new engine and transmission combined with a new active intake and exhaust system, increases Softail displacement, power and torque for a strong and smooth ride, while significantly improving exhaust sound quality.
Another piece of headline-making news for all the new 2007 Harley-Davidson Softail models is the introduction of a highly sophisticated active air intake and exhaust technology system developed by Harley-Davidson for Europe. This system significantly improves power, torque and sound quality whilst meeting European noise and emission regulations.
The Softail range has always presented truly original designs that in many ways epitomise Harley-Davidson custom styling. For 2007, the Softail family combines the performance and technology of a bigger and better engine, 6-speed transmission, electronic fuel injection, active intake and exhaust with distinctive styling elements to deliver an efficient and emotional ride. All Harley-Davidson models for the Europe, Middle East and Africa region feature an upgraded security system as standard. The new Harley-Davidson Smart Security System offers hands-free operation courtesy of a proximity sensor that detects the presence of the security fob.
The new FXSTC Softail Custom is comfortable and chromed out with stirring, laid-back style. The classic FLSTF Fat Boy gets pumped up with a bigger engine, wider tyres and fenders, thicker handlebars and other additions. A popular feature on certain Softail models last year, a 200mm wide rear tyre now gives three Softail models a bold look for 2007. The 200mm rear tyre is mounted on a polished aluminium disc rear wheel. These extra wide rear aspects appear on the FXSTC Softail Custom, the FXSTB Night Train and the FLSTF Fat Boy.
The Softail line is named after the innovative Harley-Davidson Softail chassis, originally launched in 1984. The Softail honours the look of the vintage "hardtail" frame, while offering a modern swingarm and suspension featuring hidden horizontal rear shock absorbers and springs. The result is a classic long and low profile, influenced both by Harley-Davidson Motor Company heritage and cutting edge design. Each Softail model is a premium custom motorcycle designed to be authentic and functional, while making a compelling statement.
All six models in the 2007 Softail line-up include the following features:
- 1584cc Twin Cam 96B engine, rigid-mounted in the frame as an integral element of the motorcycle, but balanced to minimise vibration.
- New active air intake and exhaust technology system.
- 6-speed Cruise Drive transmission with helical gear design for more torque and lower cruising revs in top gear, as well as smoother shifting and reduced engine noise.
- Electronic Sequential Port Fuel Injection (ESPFI) for clean operation and improved drivability.
- Clutch lever effort reduced by 10 per cent for easier operation and reduced fatigue.
- Hollow front axles for more precise handling and tracking.
- New speedometer with clock function, sixth gear indicator light and brighter LED lights.
- Hands free security system.
FXSTC Softail Custom
The new FXSTC Softail Custom offers the ultimate ride for those who want to kick back with their feet stretched out in a comfortable solo ride or with a passenger. The new Twin Cam 96B engine and 6-speed Cruise Drive transmission enhances the ride, while the combination of chopper-inspired style and comfort of a plush two-up seat and backrest will really stand out on the street.
The Softail Custom goes wide with a 200mm rear tyre on a polished slotted disc 17 inch rear wheel wrapped by a traditional bobtail fender. Polished stainless steel factory ape-hanger handlebars tower over a Fat Bob fuel tank adorned with custom decals and an embossed leather tank strap. A bullet-style headlamp rides over a 21 inch chrome profile laced front wheel. With chrome details adorning the new powertrain, the only thing the Softail Custom brings from the past is its name. Choose from three solid and four two-tone colour schemes.
FLSTF Fat Boy
Only the name remains the same when it comes to the FLSTF Fat Boy, which gets bigger, broader and brighter for 2007. Besides more power and 6-speed transmission, the Fat Boy gets funkier and flashier with a major upgrade to its already muscular profile.
Start at the back with a new 200mm rear tyre on a bullet hole disc wheel under a redesigned rear fender. A new two-tone and two-up seat with bullet laced valence sits behind a traditional Fat Bob fuel tank with new customised graphics matching the fenders and laced triple bullet strap. The Fat Boy cuts a wide path with a new 17 inch bullet hole disc front wheel, chrome front fork nacelle and giant bare knuckle risers and a fat, internally wired handlebar. Fat Boy is bigger and badder than ever. Offered in eleven solid colour options.
FLSTC Heritage Softail Classic
The smooth riding enjoyment of custom touring with the Heritage Softail Classic gets even better with the new Twin Cam 96B engine, 6-speed Cruise Drive transmission, active intake and exhaust system and electronic fuel injection. The Heritage Softail Classic features touring essentials like comfortable riding position with a low seat height, wind protection, passenger room and luggage space, combined with early dresser style and a nostalgic feel.
A new passenger seat, as well as the Lexan windshield and saddlebags, can easily be detached for an even more classic look, essentially creating two bikes in one. New chrome profile laced wheels with chrome passing lamps, studded-leather trim and a full FL front fender over a fat touring front tyre provide the makings of a truly original custom touring motorcycle. Available in five solid and four two-tone colour choices.
FLSTN Softail Deluxe
FLSTN Softail Deluxe looks to the past while setting it sights on the future. Its unique paint scheme, beautiful cloisonné and abundant chrome and detailing combine with the new Twin Cam 96B engine, 6-speed Cruise Drive transmission, active intake and exhaust system and electronic fuel injection for stunning overall performance. With lowered suspension, the Softail Deluxe hugs the road with pull-back riser and handlebars and the 622mm seat height makes it the lowest Harley-Davidson model available.
Features like an integrated luggage rack, checked seat side panels with a chrome grab rail, new full-length footboards and clean front and rear light bars with bullet signals help the Softail Deluxe live up to its name. Wide whitewall tyres on chrome profile laced wheels, special tank and fender emblems and a classic tombstone tail light evoke the past but the overall package is a thoroughly modern motorcycle offering an exceptional ride.
FLSTSC Softail Springer Classic
The FLSTSC Springer Classic looks into the Harley-Davidson history books for its look, but is bang up-to-date thanks to its smooth ride. The retro look of deep black powder coated Springer front suspension and chrome shocks and springs meld smoothly with the new Twin Cam 96B engine in black and chrome, 6-speed Cruise Drive transmission, active intake and exhaust system and electronic fuel injection.
With original style and modern function, the Springer front suspension delivers a sweet ride with fine handling. The fuel tank trim strip, metal stamped emblem and oil tank patent label are reminiscent of the Knucklehead era. Newly packaged directional signals on the beach style handlebar and comfortable seating position ensure the look and stance of a rider who owns the road. The tough looking Springer Classic has an exposed rear fender with a passenger pillion that can easily be removed to enhance the nostalgic look. Crossover chrome dual exhausts and chrome laced wheels come as standard. Available in four solid and two two-tone colours.
FXSTB Night Train
The look and feel is radical for the 2007 FXSTB Night Train with a wide 200mm rear tyre, new Twin Cam 96B engine, 6-speed Cruise Drive transmission and active intake and exhaust system. A new extended rider footpeg and brake pedal allows the rider to stretch out just that much further. The wide 200mm rear tyre and black slotted disc rear wheel with colour matched belt sprocket under a bobtail fender give the already intimidating FXSTB Night Train an even more aggressive attitude.
The dark side never looked better with an all-black powertrain with wrinkle-black trim on the engine covers and air cleaner, oil tank and rear fender supports, and black console is perched on the fuel tank. The raked FX front end with drag bars over a 21 inch chrome laced wheel and Badlander seat provide style for the street. Chrome laced front wheel and black slotted disc rear wheel are standard. Available in four solid and two two-tone colour options.