2007 VRSC motorcycles deliver power and performance peaks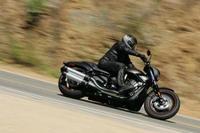 The VRSC motorcycle family continues to make its own Harley-Davidson history in 2007 with the introduction of two powerful new models, 18.9 litre fuel tanks on all family models, a wide 240 mm tyre on three models and significant styling and technological enhancements to all.
The new blacked-out VRSCDX Night Rod Special with its long and low street styling and the drag inspired VRSCX, each add their own unique character to the VRSC family. The Night Rod Special is the menacing relation of the award-winning V-Rod, while the VRSCX is a powerful limited-edition model celebrating the championship-winning Harley-Davidson Screamin' Eagle/Vance & Hines NHRA Pro Stock Motorcycle drag race team.
Adding two new models along with major performance, functional and design upgrades across the VRSC family takes these motorcycles to an entirely new level of power and style. The VRSC family becomes even more versatile in response to valuable input from both customers and the marketplace.
Harley-Davidson VRSC motorcycles combine true custom styling with state-of-the-art performance technology. VRSC is distinctive Harley-Davidson with its liquid-cooled, 60-degree Revolution V-Twin engine and steel perimeter frame with hydroformed main rails. The VRSC line rides with the same competitive drive that led the Vance & Hines/Screamin' Eagle V-Rod to the 2004 and 2005 NHRA Pro Stock Bike Drag Racing Championships.
The Revolution V-Twin engine is rubber-mounted with a single counter-balancer with dual overhead cams, four-valve heads and five-speed transmission. Running to a 9000 rpm redline, the Revolution engine generates 105 Nm to 116 Nm of torque and between 117 and 123 peak horsepower, depending on engine displacement and model. With Electronic Sequential Port Fuel Injection (ESPFI), a steel shell covers the large volume airbox, located where you'd find the fuel tank on most motorcycles, while twin vortex scoops draw air into the radiator shroud.
For 2007, all VRSC models are equipped with 18.9 litre fuel tank capacity and consistent ignition switch location, as well as high-performance Brembo brakes, new instruments with a clock and second trip meter, and side stand with an easy-to-reach foot tab. Three models are now equipped with standard 240mm wide rear tyres. The new Harley-Davidson Smart Security System offers hands-free operation courtesy of a proximity sensor that detects the presence of the security fob.
VRSCDX Night Rod Special
As a new VRSC model and the harder-edged sibling of the Night Rod, the VRSCDX Night Rod Special provides wicked style and performance. With an all black finished 1130cc Revolution powertrain pounding out 121 horsepower and 108 Nm of torque, the VRSCDX Night Rod Special defines the tougher end of the power cruiser segment. Blacked-out components show an edgy attitude that rides on a wide 240mm rear tyre.
Keeping the Night Rod Special on the dark side are black features like the frame, forks, triple clamps, swing arm and black machined slotted disc wheels. Taking the theme further are a colour-matched headlight nacelle, brushed straight-shot dual exhaust with black end caps and exhaust shields, and a black-on-black racing stripe paint scheme. An 18.9 litre fuel tank lies under a newly restyled low seat, combined with forward controls and drag style handlebars for a great riding stance. Available in black denim with vivid black racing stripe or vivid black with black denim racing stripe.
VRSCX
The VRSCX takes it to the track as a new VRSC model honouring the Screamin' Eagle/Vance & Hines NHRA Pro Stock motorcycle drag race team with a powerful engine and radical styling. A 1250cc Screamin' Eagle Revolution engine with big-bore cylinders and ported heads provides 123 horsepower and 116 Nm of torque, a significant power and performance increase over the standard 1130cc Revolution V-Twin. A 240mm rear tyre, drag bars, forward controls, a brushed profile laced front wheel, drag flyscreen and unique Screamin' Eagle paint and decals with a redesigned version of the famous "Number 1" logo, combine to make this motorcycle a winning entry into the VRSC family. An 18.9 litre fuel tank provides long travel range and lies under a drag styled, low seat. Production of this extreme street legal drag bike is limited to 400 units for Europe.
VRSCAW V-Rod
The VRSCAW V-Rod helps to literally widen the VRSC family, offering the original combination of award winning power cruiser custom styling and stunning liquid-cooled engine performance now with an ultra-fat 240mm rear tyre. With a 36 degree fork angle, forward controls, pull back handlebars, drag-style machined slotted disc wheels and curvaceous elastomer formed exhaust system, the VRSCAW defines the power cruiser category for 2007. A new 18.9 litre fuel tank offering significantly increased fuel range sits under a low seat just 660mm from the ground. Chrome slash-cut dual exhaust pipes deliver the sweet sound of a high-performance 1130cc Revolution two-tone silver and charcoal engine with chrome treatment. Choose from nine colour options, including three new two-tone combinations.
VRSCD Night Rod
The sinister VRSCD Night Rod continues to keep the VRSC family on the dark side of the street in 2007 with tough styling and bold power. With a raked-out, 36 degree fork angle and mid-mount controls for aggressive cruising, the Night Rod rides in the shadows with colour-matched headlight nacelle, chrome straight-shot dual exhaust, machined slotted disc wheels and blacked-out components.
The ergonomics of Night Rod with its mid-mount foot controls suits a wide range of riders. The Revolution V-Twin engine is finished in black powdercoat with highlighted fins and polished covers. An enlarged 18.9 litre fuel tank offering improved range lies under a low seat. Three colour choices include Vivid Black, Yellow Pearl and new Pacific Blue Pearl.
VRSCR Street Rod
Featuring a sport-tuned suspension and Brembo performance brakes, the VRSCR Street Rod is a muscular roadster with stylish attitude. Mid-mount foot controls and a 40 degree lean angle put the rider in an assertive riding position. Handling and control are precise with a wider and higher handlebar for 2007 offering enhanced control and ergonomically enhanced rear brake lever.
With a more aggressive fork angle of 32 degrees and a shorter wheelbase of 1700mm, the Street Rod is an exhilarating motorcycle that allows riders to attack twisty back roads with power and confidence. The 43mm inverted forks and rear shocks have a performance calibration for precise handling. An 1130cc liquid-cooled Revolution V-Twin engine with straight-shot dual exhaust pipes produces 121 horsepower and 108 Nm of torque. Styling and looks now display "high-tech" finishes and radical denim paint, giving riders more options to customise the VRSCR. Offered in five solid colours, including new Pacific Blue Denim and Pewter Denim.