Online dating for people of all ages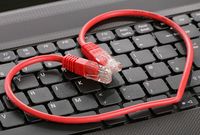 As the internet takes over various parts of day to day life, it is no surprise that more and more people are looking for love online across all age groups. Online dating appears to have increased across the board over the last two years but fluctuations in numbers from various surveys make it difficult to identify by exactly how much.
As may have been expected, the younger age groups make up the bulk of the population looking for love online but surprisingly the middle aged groups also showed marked increases in numbers between 2013 and 2015 (35–54). As may have been expected, the older generation aren't as active on the online dating scene; it is unclear whether this is due to a lack of technological understanding or lack of want/need.
The younger generation's interest in online dating is predominantly isolated to mobile apps, such as POF and Tinder, rather than online dating websites such as EHarmony or Match.com. This doesn't come as a great surprise seeing as the generation of the Millennial rely on their mobile devices for virtually everything. Despite this seeming lack of interest for the dating websites, the younger generation also make up the bulk of the users online too.
Even though the number of users is much lower than the younger generation, the 34-45, 46-55 and 56+ groups have seen marked increases in numbers over the last two years. There are websites now available online which some reviews describe as geared to its older users by its simplicity. The most mature category has seen double the number of users despite the common belief they are most likely to be in long term relationships by that stage of life.
Several online sites and applications suggest there is a greater chance of finding a compatible partner by using their services but data remains unavailable as to the validity of these claims. It is entirely feasible and probable that these claims are genuine as the search parameters can be set as wide ranging or as detailed as the user chooses – a wider search net gives a user a better chance of meeting new people and the filters work to eliminate unsuitable candidates.
This is clearly a better system than the traditional method of meeting a prospective partner as it is more detailed and advanced but there is a certain lack of mystique according to many. It does take time to adapt to the online dating format as much of the information that would be obtained on a first date/meet is readily available for the user to digest – saving time but losing some of the personal nature of dating.
It is clear, online dating is here to stay and is being utilised by more and more people but there will always be those who prefer not to use it akin to any other technological advance – take shopping as an example; many people order online with Ocado or a supermarket's delivery service but most still attend the supermarket itself to purchase their groceries. Online dating is simply online shopping to an extent – think about that next time you swipe left!