Harley-Davidson's European sales surge into the fast lane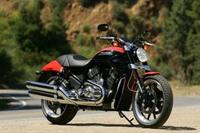 Iconic motorcycle manufacturer Harley-Davidson has seen sales of its famous bikes, including the Sportster, V-Rod and Fat Boy, surge by 15.6 per cent in Europe during the second quarter of 2006 compared with the same period last year.
Overall European sales of Harley-Davidson motorcycles for the first half of 2006 also remain firmly in the fast lane and are up by 12.5 per cent (20,635) on 2005 (18,353).
"These results are encouraging as they reflect the growing appeal of our motorcycles to European riders who are completely new to the Harley-Davidson experience," said Harley-Davidson Europe's Vice President John Russell.
"The Sportster range is important to us because increasing numbers of riders have realised that while Harley-Davidson remains a famous and desirable marque, motorcycles like the Sportster are very attainable.
"We've also made strong progress with our VRSC motorcycle line-up - these machines offer all the head-turning good looks synonymous with the Harley-Davidson name whilst delivering plenty of performance and the technology and handling characteristics that many European riders appreciate," Russell added.
News of Harley-Davidson's robust European sales figures came shortly after the announcement that the famous Milwaukee company was launching a completely new 1584cc, Twin Cam 96/96B engine for its 2007 Touring, Dyna and Softail "Big Twin" motorcycles. The introduction of a highly sophisticated active air intake and exhaust system for European Big Twin models also significantly improves power, torque and sound quality whilst meeting European noise and emissions regulations.
Another key feature for model year '07 Big Twin models is the 6-speed Cruise Drive transmission first introduced on Dyna models last year. Electronic sequential port fuel injection is also featured on all Harley-Davidson models, including Sportsters, for 2007. A new Smart Security System, offering hands- free operation, is also standard equipment on all 2007 Harley-Davidson models.
"Harley-Davidson is renowned for its heritage and traditions which date back over a century. But we continue to innovate and the new Twin Cam 96/96B engine, which offers up to 19 per cent more torque than its predecessor, is firm proof of our commitment to investing in technologies. This ensures that our V-Twin motorcycles constantly evolve and offer our riders a unique but thoroughly modern riding experience."