Harley Davidson XR 1200 Prototype to debut at Intermot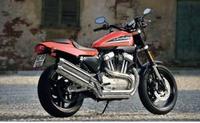 In an unprecedented signal of its commitment and possible direction in Europe, Harley-Davidson has chosen the Intermot motorcycle show in Köln, Germany for the world premiere of its new, high performance XR 1200 Prototype motorcycle.
The Harley-Davidson XR 1200 Prototype has been developed beyond the concept and design stages, and debuts at Europe's biggest motorcycle show in order to gauge media and public reaction to a new kind of Harley-Davidson, with an emphasis on performance, handling and sporting style. Development goals include Harley-Davidson's most powerful regular production, European specification, air-cooled V-Twin engine; excellent handling, suspension and braking, all fine-tuned for European roads; and styling inspired by the Motor Company's legendary XR 750 dirt track race bike.
The XR 1200 Prototype is the result of a close collaboration between the Motor Company's Milwaukee-based product development team and Harley-Davidson's Product Planning Europe (PPE) team. An example of their earlier work is the recently introduced and currently sold-out VRSCDX Night Rod Special.
Reflecting the growing importance of the European market, the PPE team played a significant role in defining the specifications and ergonomics of the XR 1200 Prototype, and worked with the US Ride and Handling engineers on suspension and handling development.
The result points to the most powerful air-cooled European specification Harley-Davidson yet seen, with around 85-90hp expected from the 1200cc, downdraft fuel injected engine. With a generous lean angle; specially tuned Showa sports suspension, including 43mm inverted front forks; high performance Nissin brakes; and specially developed Dunlop Qualifier tyres, the XR 1200 Prototype could become the best handling Harley-Davidson regular production machine ever seen.
Developed with new European customers in mind
It's no coincidence that Intermot was chosen to expose the XR 1200 Prototype to public and media scrutiny. John Russell, Vice President, Harley-Davidson Europe explains:
"We are experiencing strong growth in Europe and we anticipate that the XR 1200 Prototype will appeal to new customers, including younger riders currently using competitive brand standard and sports motorcycles. They probably like and admire the Harley-Davidson brand, but are not currently in the market for a more traditional custom or touring Harley-Davidson motorcycle. If the reaction to the prototype is favourable, and the prototype is brought to market, it is expected to have a similar effect to the highly successful V-Rod models. These have been particularly successful at bringing in new customers and broadening the appeal of Harley-Davidson."
Pure Flat Track racing DNA
A quick glance tells you that the XR 1200 Prototype could only be a Harley-Davidson. Yet it is also unlike any current Harley-Davidson production motorcycle. The inspiration for the original concept came from the most successful racing machine in the history of motorcycle sport: the Harley-Davidson XR 750. Introduced in 1970, the XR 750 has notched up thousands of race wins in the hands of famous Flat Track riders such as nine-times Grand National Champion Scott Parker. Many of America's top road racers including MotoGP championship front-runner Nicky Hayden have honed their skills drifting around oval dirt tracks in the US.
XR 1200 Prototype styling project manager, Frank Savage, explains how the design of the bike came about:
"The inspiration came from the XR 750 – a raw, simple motorcycle built like a tool for a specific job: Dirt Track racing. This results in unique proportions and features. For example, the fuel tank is a beautifully slender form. It was important the XR 1200 Prototype was laden with the DNA of the XR 750. And the engineering guys have also been working hard to ensure that the bike has the right performance, handling characteristics and feel to ensure the bike deserves to wear the XR badge."
Matt Weber, ride and handling specialist for the XR 1200 Prototype project, added:
"My team and I have done extensive on-track ride and handling performance development, including working closely with our European product planning colleagues and Adrien Morillas, the French former GP and endurance racer.
"As a result, the bike really works – and it's extremely easy and fun to ride fast. I have ridden, raced and benchmarked sports bikes most of my motorcycling life. This XR 1200 Prototype compares extremely favourably. It's pretty cool that it looks like a flat tracker, but for me the great handling is the most important thing."
XR 1200 Prototype features include*:
XR 750-inspired styling and livery
1200cc high performance powertrain finished in as-cast silver powdercoat
Downdraft fuel injection and electronically controlled active air intake system
Specially developed Dunlop Qualifier tyres (front 120/70ZR18; rear 180/55ZR17)
Unique lightweight cast wheels with dirt track-inspired design
Specially developed sports tuned Showa suspension including 43mm inverted front forks
High performance Nissin brakes
Ergonomics designed around the average height European customer
The overall package is a purposeful looking prototype motorcycle with great performance, handling and a unique character and feel. Above all else, it offers a tremendously rewarding riding experience.
As Harley-Davidson seeks to further grow its presence and sales in Europe, Intermot and subsequent major European events will be used to carefully evaluate the media and public reaction to the XR 1200 Prototype. If this first prototype strikes a chord with show-goers, Harley-Davidson hopes to be in a position to bring the XR 1200 to the production line in 2007.
* Specifications may well be subject to change if and when development continues on the XR 1200 Prototype.