Sydney transformed by its urban green spaces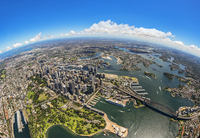 Sydney's newest developments are transforming the already picturesque city into one of the world's best public park and green space urban centres.
While the city is home to an astounding 188 hectares of parklands*, new parklands and green spaces are continuing to boost the city's green footprint.
Destination NSW CEO Sandra Chipchase said "Sydney is a global leader in providing visitors and locals with vibrant and enticing urban green spaces that they can embrace and enjoy.
"New urban developments like Barangaroo Reserve, the Goods Line and Central Park are transforming some of the city's oldest industrial sites into vibrant precincts, with spectacular parklands and green spaces integral to the development," said Ms Chipchase.
Craig van der Laan, Chief Executive of the Barangaroo Delivery Authority, says creating enticing urban green spaces is vital in global cities such as Sydney.
"Exceptionally-designed urban green spaces provide opportunities to reconnect with nature in the heart of a bustling city.
"In recreating a Sydney Harbour headland at Barangaroo Reserve, we have turned an inaccessible old concrete container wharf into an internationally award-winning green space. We have given visitors access to six hectares of native parkland and a stunning sandstone foreshore. Our visitors take advantage of the open space by picnicking, cycling and, importantly, touching the waters of Sydney's famous Harbour," said Mr van der Laan.
Sydney's green spaces are not just a result of recent urban renewal; they are important part of the city's heritage. Some of the city's most celebrated parks include the stunning 200-year-old Royal Botanic Gardens Sydney overlooking the Sydney Opera House, Sydney Harbour National Park which protects hectares of natural bushland, coves and harbour islands, and the impressive 360-hectare Centennial Parklands which was established in 1888.
Many of Sydney's existing and new parklands feature Australian plants and offer a variety of experiences for visitors. Variety is the key – large open green spaces, spectacular harbour walks, architecturally-designed gardens and secluded pocket parks.
Some of Sydney's most impressive urban green spaces include:
1. Sydney's newest harbourside reserve, Barangaroo Reserve is six hectares of spectacular headland with never-seen-before views of the city's harbour and more than 75,000 native trees and shrubs. The reserve features extensive walking and cycling tracks along the harbour foreshore, a stunning sandstone foreshore and picture perfect picnic spots
2. Beyond Central Park's breathtaking vertical gardens, which wrap the facades of both buildings with more than 38,000 native and exotic plants, is the impressive new Chippendale Green. This public space, in the heart of city, features free BBQs, a cascading water feature and lush open lawns dotted with shady trees
3. A former railway line, The Goods Line has been transformed into an elevated pathway and park running from Railway Square to Darling Harbour. Dotted along the way are picnic tables, grassy spaces, table tennis tables, study pods amongst the trees, and a children's water play area and sandpit shaded by fig trees
4. Tucked away behind Oxford Street in Paddington is the architecturally-designed Paddington Reservoir Gardens which has been hailed as a blend of the ancient Baths of Caracalla in Rome and the Hanging Gardens of Babylon. This secluded urban oasis is surrounded by lush vegetation in sunken gardens and features boardwalks and a fishpond
5. Wrapped around Farm Cove at the edge of Sydney Harbour, the Royal Botanic Gardens offers panoramic views of Sydney Harbour. This 30-hectare garden has manicured lawns, an outstanding collection of plants and gardens, and daily-guided walks
6. Dotted throughout Sydney are pocket parks, providing a small reprieve of grass and trees amidst the bustling city. Macquarie Place Park nestled behind Circular Quay on Bridge Street is an example. The small shaded park houses 18th century artefacts and public art sculptures.
7. Centennial Parklands covers and features 360 hectares of beautiful parklands and gardens, ponds, grand avenues, heritage buildings and sporting fields. Locals and visitors alike relish this open space for its walks, cycling and horse riding
8. The aptly named Sydney Park, just moments from the bohemian Newtown neighbourhood features 40 hectares of undulating parklands and wetlands on the fringe of the city. The popular park attracts families, cyclists and dog owners taking advantage of the open space, amazing playground, cafe and kilometres of walkways
9. Hyde Park is Australia's oldest park and the best place to people watch in Sydney. Strolling through the historic central avenue which features Hill's Figs is breathtaking. This historic park contains the ANZAC Memorial, iconic Archibald Fountain, numerous public art works and water features.
For more information visit sydney.com and visitnsw.com.