Buell delivers exciting performance for the real world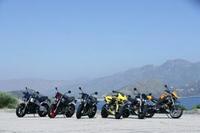 Buell Motorcycle Company continues to challenge the sport-motorcycle status quo in 2007. Six Buell XB motorcycles, innovative in design and bold in character, offer a riding experience for uncompromising riders. Each is engineered with passion, ingenuity and one goal in mind: to wring the last ounce of fun from every mile of road.
For 2007, Buell XB motorcycles are offered in three distinct model families. Four Buell Lightning models offer naked, Streetfighter attitude and unbridled, cut-and-thrust performance.
The Buell Firebolt XB12R defines the Sportfighter niche with a razor sharp track-proven chassis design propelled by huge American V-Twin torque.
The Firebolt features intuitive sporting ergonomics with low bars and high footrests for almost limitless cornering clearance. This motorcycle features an ultra short 1320mm wheelbase – the same as a typical 250 GP bike – and a steep 21 degree steering head angle. The result is an agile yet stable package that is immensely rewarding to ride.
The Buell Ulysses XB12X is an Adventure Sport motorcycle with Buell's trademark sport chassis married to long-travel suspension designed to offer control and precision on any road surface.
"Last year Buell charted new territory with the introduction of the Ulysses XB12X and the Lightning Long XB12Ss, and for 2007 we plan to keep moving forward by further enhancing the entire line of Buell motorcycles," said Erik Buell, chairman and chief technical officer at Buell Motorcycle Company.
New on Buell XB Models for 2007
Pirelli tyres: All 2007 Buell XB models will roll on high-performance Pirelli tyres. The Buell Ulysses XB12X and Lightning CityX XB9SX are fitted with Pirelli Scorpion Sync tyres which combine high performance with an aggressive look, while all other XB models are on Pirelli Diablo T tyres which offer supersport performance for the road. Specific information on Pirelli tyres can be found at www.pirelli.com.
New colours: A new colour, Cherry Bomb Translucent Red, will be offered for the Lightning XB12S and Lightning XB12Scg models. An exclusive feature to Buell, the translucent airbox cover and flyscreen are made of a special see-through plastic that gives the bike unique colour but also allows some mechanical elements to be seen through the material. Also new for the Lightning models is the combination of Midnight Black with black wheels.
The Firebolt XB12R, Buell's premium sportfighter motorcycle, powered by the 1203cc Thunderstorm V-Twin engine that revs to 6,800 rpm, will be offered in two new colour combinations: Midnight Black with new Cherry Bomb Red wheels and windscreen, and for the first time in dazzling Sunfire Yellow with black wheels. In 2007 the revised design of the inner airbox cover increases airflow potential to the engine without adversely affecting intake noise levels.