Buell Ulysses adventure sportbike - ready to take you even further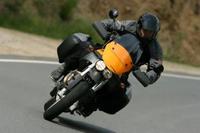 The Buell Ulysses is a truly versatile Adventure Sportbike with the emphasis on 'sport' courtesy of Buell's trademark handling prowess. Its broad, V-Twin powerband and rigid chassis make it a capable performer on urban streets, in the twisties or out on the open road and beyond.
Comfortable, upright ergonomics, a roomy cockpit, and a wide seat provide all-day comfort for rider and passenger. Optional hard-shell sidecases and top case transform Ulysses into a long-range touring mount, wherever you want to venture.
In 2007 the Ulysses is ready and waiting to take you even further with a series of upgrades designed to specifically enhance rider comfort and control.
New Seat Design
For 2007, the Buell Ulysses is a better fit for more riders, thanks to a new seat shape that's both narrower at the front and lower overall. Seat height is reduced by 33mm, to 808mm. Seat comfort and durability is further enhanced by the elimination of seams on the side of the seat and an improved coarse texture.
New Tyres
Another change for 2007 is the introduction of Pirelli Scorpion Sync tyres. Through testing by Buell it was determined that when fitted to the Ulysses, the Pirelli tyres deliver better road performance and stability. They work well on unpaved roads, thanks to an aggressive, open tread pattern. Tyre size is unchanged, at 120/70R-17 front and 180/55R-17 rear.
New Fork Springs and Airbox Cover
Revised front fork springs improve handling and rider comfort and reduce fork-dive under braking, while a revised functional airbox cover optimises air flow potential without affecting intake noise.
Designed to Play on Tarmac or Trail
Although primarily designed for on-road riding, the Buell Ulysses does give its rider the ability to travel over dirt, gravel and other unpaved road surfaces with confidence. To enhance control, Ulysses has a high, wide handlebar with cross brace. Tough alloy foot pegs are placed in a neutral location. Handlebar-mounted deflectors and a two-piece windshield designed to limit buffeting also enhance ride comfort. A dual front fender system provides debris protection for the rider and the bike.
Two-up Comfort Comes as Standard
Designed to provide both passenger comfort and touring versatility, the innovative Triple Tail system folds through three positions to function as a luggage rack with tie-down hooks over the rear seat position, as a cushioned passenger backrest with grab rails, or as a luggage rack extending toward the full-coverage rear fender and LED tail lamp. The Ulysses has two 10 amp/12-volt accessory power outlets (one on the dash, another under the seat) and a large under-seat storage compartment.
Premium Showa front and rear suspension is fully adjustable. Rear spring preload can be adjusted for passenger and luggage weight simply by turning a knob located just below the left side of the seat. Suspension travel is 165mm in front and 162mm at the rear. Ground clearance is 171mm. The 17 inch, six-spoke, cast aluminium wheels feature a durable rim design.
The Buell "Trilogy of Technology" principles – frame rigidity, mass centralisation and low unsprung weight – enhance the performance of Ulysses on paved and unpaved roads. The lower centre of mass achieved by carrying fuel in the frame, oil in the swingarm and an underslung exhaust enhance rider confidence, while minimised unsprung weight helps keep the tyres in contact with both even and uneven road surfaces for improved control. Ulysses dry weight is just 193 kg.
The broad powerband and abundant torque of the 100 hp Buell Firestorm 1203 V-Twin engine gives the Ulysses the ability to charge through twisty road sections or proceed at lower speeds over uneven, unpaved roads with less gear shifting.
Touring Accessories
Touring accessories available since the introduction of Ulysses include top case and side cases, the Buell Quest Portable GPS Navigation system and a Triple Tail backrest pad. New for 2007 is a Tall Windscreen that is four inches taller than the stock windscreen.
The Buell Ulysses XB12X will be offered with Barricade Orange or Midnight Black bodywork with Graphite Grey frame and swingarm and Magnesium Tone wheels.