Buell Lightning Super TT XB12STT unveiled at Eicma Milan Show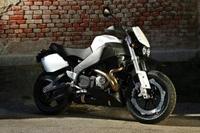 It's time to take to the street with attitude and style as Buell unleashes the new Lightning Super TT XB12STT – a motorcycle packed with muscular performance and a totally unique urban character. The Lightning Super TT, making its worldwide debut at the EICMA International Motorcycle Show in Milan, Italy, is built for battle with characteristic Buell Streetfighter innovation.
"Our motorcycles empower riders in the city and out on the back roads, and are purpose-built to offer a truly exhilarating ride," said Erik Buell, chairman and chief technical officer, Buell Motorcycle Company. "The Lightning Super TT XB12STT continues that vision by blending street and track performance with heaps of torque and power into a bigger, eye-catching and versatile Supermoto-inspired design."
As the latest addition to the Buell Lightning family, the Lightning Super TT combines hard core Streetfighter attitude with the agility and style of Supermoto bikes. The Lightning Super TT boldly reflects a rebellious and aggressive spirit.
With 81 ft. lbs. / 110 Nm of torque and the broad powerband of the Buell Thunderstorm 1203cc 45º engine, the Lightning Super TT is primed to rule both the urban jungle as well as any favourite stretch of twisty mountain road. The air/oil/fan-cooled V-Twin engine features DDFI II electronic fuel injection and the Buell Interactive Exhaust is tuned for the ultimate in performance and control.
The Buell "Trilogy of Technology" featuring frame rigidity, mass centralisation and low unsprung weight works to provide the Lightning Super TT with superior handling, powerfully smooth acceleration and legendary Buell torque. A lightweight aluminium frame contains the fuel, with the oil in the swingarm. The muffler is located below the engine and the Immediate Throttle Response System, with a light Goodyear Hibrex final belt drive with Flexten Plus technology, provides what feels like a direct connection between the throttle and the rear wheel for an exhilarating ride in all conditions.
A ZTL (Zero Torsional Load) front brake features a 375 mm disc gripped by a powerful six-piston caliper. The disc is mounted on the wheel perimeter at the base of the six-spoked wheels finished in Villain Black. The Pirelli Scorpion Sync tyres on the Lightning Super TT have an aggressive tread pattern to provide superb bite on the most challenging of urban roads.
The Buell Lightning family is renowned for its combination of functional rider ergonomics and sporty styling. The Lightning Super TT has a long, smooth Supermoto-style solo seat with a 798 mm height. The 1365 mm wheelbase offers superb agility wherever the road leads. Fully adjustable, 43 mm Showa inverted front forks and an adjustable Showa rear shock, adds even more versatility.
While this new Buell motorcycle will stand out from any crowd with its slick, competition-inspired look featuring racing-style number plates and flyscreen with a minimalist Satin Black tail section, riders can showcase their own inspiration by easily personalising the bodywork. The Arctic White Surlyn bodywork is combined with wide, flat handlebars with cross-brace, instrument panel and deflectors for a unique and aggressive street style. The upper front fender provides debris protection with a Supermoto look.
Buell Lightning Super TT XB12STT highlights:
1203cc Thunderstorm V-Twin powertrain:
88.9 mm bore and 96.8 mm stroke
10.0:1 compression ratio
49 mm down draft DDFI II fuel-injection
Interactive exhaust with mass-centralised mounting
100 hp / 101.4 PS / 74.6 kw @ 6600 rpm (EU Standard EC95/1)
81 ft. lbs. / 110 Nm peak torque @ 6000 rpm (EU Standard EC95/1)
Villain Black 6-spoke powdercoat cast aluminium wheels:
Front: 3.5 inch x 17 inch wheel with 120/70 ZR-17 tyre
Rear: 5.5 inch x 17 inch wheel with 180/55 ZR-17 tyre
Pirelli Scorpion Sync tyres
Buell ZTL front brake
43 mm Showa fully-adjustable front suspension with inverted forks
Showa fully-adjustable rear suspension with coil-over monoshock with remote reservoir
Narrow Supermoto-style solo seat
Supermoto-inspired upper front fender design
Racing-style white Surlyn flyscreen and tail section number plates that are easily swapped out as a canvass for moto art and self-expression
798 mm seat height
Dry weight: 179 kg
Wheelbase: 1365 mm
Graphite Grey frame and swingarm
Supermoto-style handlebars with crossbar and deflectors.