New to the Swiss Alps: "From Verbier With Love"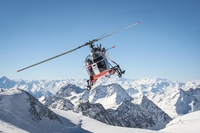 New to Verbier this year are the exciting spy and licence to ski experiences from Above & Beyond titled "From Verbier With Love".
Thrill-seeking individuals and spy movie fans can now make their dreams a reality by living a secret agent lifestyle on their ski holiday in Verbier.
Individual experiences are available for those wishing to dip their toes into the secret agent lifestyle, but the more bold and brave can undertake total immersion in an all-encompassing ultimate "From Verbier With Love" ski trip.
From Verbier With Love experiences are divided up into four categories; Licence To Ski; Goldflying, Spy Who X Me and A View To A Thrill.
The 'Goldflying' experiences include paragliding; learning to fly a helicopter and skydiving. "Licence to Ski" experiences cover avalanche rescue training; heli-skiing on a glacier, freeride skiing or snowboarding and freestyle/stunt ski lessons. 'Spy Who X Me' experiences include ski training while learning how to protect a client on the mountain; self-defence training and special weapon shooting activities.
Clients can also choose to experience a number of individual "A View To A Thrill" lifestyle activities, such as learning how to make the perfect martini; torchlight tobogganing, a breathtaking dog sled trip, drinking Bollinger; eating caviar; test driving an Aston Martin; flying in a private jet and participating in a spy themed acrobatic pole dance show.
All experiences can be tailored for different ability, age and fitness levels; equally suitable for individuals and private parties, as well as corporate groups for entertainment and team building trips.
Make your favourite spy movie a reality and book the "From Verbier With Love" experience to make this year's ski trip unforgettable. You only live … once.