Travel a priority for a third of Brits in 2017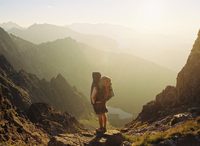 A third of Brits say that travel is their priority for 2017, above traditional resolutions like spending less time on social media, getting better sleep and eating more healthily.
Exploring the world is now the main focus for millions of Brits, also beating spending more time with family and learning a new language.
Italy emerged as the number-one dream destination, with one in five planning to visit the country this year.
This was followed by Spain, America and Australia, with the Caribbean and even Iceland appearing in the top 10.
The survey commissioned by Travel Republic of 2000 British adults found 41 per cent have never failed a New Year's resolution, while those who don't stick at it usually give up after just four months.
But two thirds of Brits are confident they will be able to achieve their New Year's resolutions in 2017, with half of the nation planning to do more travelling this year.
Naomi Wilkinson, Marketing Director for Travel Republic, said: "We expected, things like losing weight or getting fitter to be at the top of the list, but it's great to see how big the nation's appetite for travel is.
"Almost as many people said they wanted to travel more as save more money – usually something that everyone puts at the top of their list."
Forty five per cent of respondents said their top travel resolution for the year was to visit a place they'd never been before.
Twenty per cent aim simply to do more travelling than last year and 18 per cent want to learn about a destination's history or culture.
One in five Brits put visiting Italy at the top of their must-visit list and the Mediterranean country also saw Rome's Colosseum emerge as the top worldwide landmark for visitors to tick off their bucket lists.
This was followed by The Great Wall of China, and a bit closer to home the Eiffel Tower and The Louvre featured in the top ten.
According to the research, less than half of Brits describe themselves as 'well-travelled', providing the motive for setting New Year's resolutions around travel.
The average Brit takes two holidays per year, and – no doubt influenced by the cold weather and returning to work after Christmas – is most likely to plan their year's main trip in January.
Unsurprisingly, the weather is the top consideration to holiday bookers, with six in 10 respondents putting it ahead of the hotel, the landmarks and local culture.
While on holiday, over a quarter of Brits said that they develop a better relationship with their partner and it's a good time for a family to bond.
And for 10 per cent their travel resolution for 2017 is to go on a multi-generation holiday.
Naomi Wilkinson said: "With travel being at the top of so many Brits' resolution lists for 2017, it is great that people recognise the benefits going on holiday can have on their relationships with friends and family."
"Two thirds of respondents say they're determined to achieve their New Year goals – we wish them good luck, and happy travels."
The Top 20 New Years Resolutions
Lose weight
Get fitter
Save more money
Travel more
Eat more healthily
Visit new countries
Read more
Spend more time with family
Get better sleep
Manage stress better
Change jobs
Take up a new hobby
Do something for charity
Quit smoking
Learn a new language
Spend less time on social media
Not stay at work too late
Work more
Quit drinking
Try an extreme sport
The Top 10 Places To Visit In 2017
Italy
Spain
North America
Australia
Canada
France
New Zealand
The Caribbean
Greece
Iceland