Two websites become one for commercial vehicle company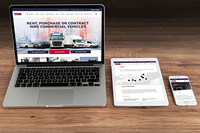 Independent commercial vehicle dealer MC Group launched their completely redesigned website this January. The newly developed site combines the Group's previous two websites, into one mobile friendly destination.
MC Group, which is comprised of MC Truck and Bus Ltd and MC Rental Ltd, previously had a website for each business. The new Group site consolidates the two, aligning all divisions under one digital roof.
Part of the reason for the revamp was to offer a more comprehensive overview of all services available. These range from short to long term vehicle rental, new and used vehicle sales, servicing, maintenance and parts. MC Group sales director, Dave Hutchins, says "One of the major challenges was communicating as concisely as possible our complete range of services from a Group perspective."
Another key objective was to make the whole site experience more enjoyable and less time consuming for visitors. Design features contribute towards a tailored user journey with consistent display of information.
The site is described by Hutchins as having "a clean and sleek design and improved functionality with better usability and navigation. Working closely with a digital agency allowed us to ensure that the website was as user-friendly as possible."
He continues "we all know how frustrating searching a cluttered site can be. To alleviate this we used the formula, the less clicks the better."
Updates include clear access to customer login areas alongside key information and policies, up-to-date news and group financials. The user can find information on the products or services offered whilst being directed to the relevant contact.
The trend towards using mobile and smart devices was central to design. The site is fully responsive, which aims to give the best user experience regardless of screen type or size.
"We keep an eye on digital trends and are very active on social media. It makes sense the website should reflect our approach to building a strong brand presence online" explains Hutchins.
He concludes "It may sound like a cliché but we take pride in being a one-stop-shop for commercial vehicles and now our website demonstrates this".
Visitors are encouraged to take a look at the website and contact the company directly at mcgroupltd.co.uk.