Staying safe from Catfish when online dating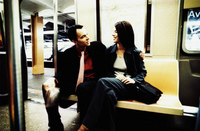 The intrepid, romantic souls who have braved the world of online dating knew about catfishing long before MTV brought the practice into pop culture. Catfishing involves the act of misrepresenting oneself online, so if you've ever met someone who clearly used a different picture or made up details on their online dating profile, you've experienced it. People catfish because of insecurity, mean-spirited tendencies, or the possibility of financial gain, making it potentially dangerous as well as heartbreaking. Here are a few tips to protect yourself from being duped.
Google Your Love Interest
Ten or 20 years ago, the idea of Googling a potential love interest seemed over-the-top, but today, it's just a wise thing to do. Granted, it's not smart to give out your full name right away. If the person you're talking to does so, that doesn't automatically mean he or she is catfishing you. However, it does give you something to Google. Failing that, Google usernames, tags, and any other distinguishing information you have. You never know what might pop up on other social media sites and web pages.
Launch a Photographic Investigation
If Nev Schulman, who started it all with his "Catfish" documentary, has taught online daters one thing, it's the magic of a reverse image search. It's relatively easy to do: Just right click on a photo, or copy and paste it into Google Image Search. It's a quick, foolproof way to catch catfishers using someone else's pictures as their own. In many cases, even pictures stolen from Instagram, Twitter, or Facebook show up in the search results.
Protip: If you catch someone doing this, it's good manners to let the real owner of the photographs know that someone's using his or her images. Stolen pictures are of living, breathing people. Having their photos used for something as heinous as catfishing can negatively affect their lives.
Create a Burner Number
Google is the unofficial BFF of every online and app dater in the world. You see, instead of giving out your personal phone number to potential Internet dates, you can use Google Voice, which provides you with a phone number. You can use it just for dating, thus keeping your personal number private. If you discover someone is a catfisher or if a date behaves badly, just delete the number and block the person. You never have to deal with them again.
Stalk Your Potential Partner's Friends
Do not literally stalk your date's friends. However, if you have access to the person's Facebook or Twitter account, take a look around and investigate. Some catfishers go to great lengths to create entire fake families and friends. They essentially talk to themselves on social media to make their lie more believable. You can't always tell, but observing the interactions of friends and followers may reveal a red flag.
Finding romance online isn't a pipe dream, nor is the Internet dating world full of liars and degenerates — but they are familiar enough to call for caution. Has anyone ever catfished you? Did you find out before or after meeting?