British public continues to embrace digital fitness technology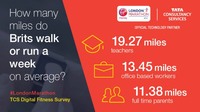 30% of Brits claim fitness technology is key fitness driver finds survey from TCS, London Marathon's Official Technology Partner.
As the Official Technology Partner for the Virgin Money London Marathon for the second year, Tata Consultancy Services (TCS), (BSE: 532540, NSE: TCS), has launched the results of its second "Digital Fitness Survey." The survey reveals how digital technology continues to be key in boosting the health and well-being for the general British public.
TCS surveyed over 2,000 Brits to examine the impact digital fitness technologies, such as smartphone applications and wearable fitness trackers, are having on the UK's health and fitness. This year's study found that 37 percent of the general British public now use some form fitness / health / wellness technology.
While it is recommended that we walk 10,000 steps a day, almost 5 miles, the average Brit is only running or walking 12.39 miles a week. However the survey found that technology is a key fitness driver with over three quarters (77 percent) of Brits who use fitness technology saying the amount they walk or run each week has increased since using these devices or apps and a quarter (25 percent) say it has increased 'significantly'.
Shankar Narayanan, Country Head, UK & Ireland, TCS, said: "The Virgin Money London Marathon exemplifies the ways in which digital technology is transforming all aspects of society with social media, smartphone applications, fitness trackers and wearables giving a wealth of data. It is fantastic to see that the British public are embracing such technology to not only improve their health and fitness but also their overall well-being like never before. As the Official Technology Partner of the London Marathon, TCS is focused on showcasing how through technology the public can enhance their individual journeys to better health, fitness and wellness."
Hugh Brasher, Event Director for the Virgin Money London Marathon, said: "The incredible development of digital technology over the past decade has transformed every runner's preparations for the London Marathon. We are working with TCS to develop tools that will engage more runners and fans – whether they are watching on the course or on television at home - with the unique experience of the world's greatest marathon."
Greater focus placed on striving for wellness
Nearly a third of Brits (30 percent) who use fitness / health / wellness technology state that it has increased their desire to change their lifestyle to focus more on wellness / well-being
Fitness tech makes users feel more accountable for their overall health / well-being according to a quarter of respondents (25 percent)
81 percent of full time mums / dads who use fitness / health / wellness technology said having access to data from such devices enables them to improve their well-being
Nearly 1 in 10 (9 percent) Brits said increasing their use of fitness devices has been the biggest positive impact on their well-being in the last 12 months
State of the nation
On average, men walk or run 2 more miles than women every week (13.46 compared to 11.38 for women)
Teachers average walking or running almost 20 miles every week (19.27 miles)
Full time parents walk or run an average of 11.38 miles every week, this is almost 2 miles more than those who are unemployed (8.53 miles)
Of the Brits who use wearables or apps to track their steps regularly, men walk more steps with the average, walking 8,870 a day, compared to women who walk 7,857 a day
Additional "Digital Fitness" Survey Findings:
Access to data from fitness / health / wellness devices enables the public to improve overall well-being
86 percent of Brits who use fitness/health/wellness technology, said having access to data from fitness / health / wellness devices enables them to improve their well-being
Attitudes to fitness technology spreading to the workplace
A third (33 percent) of Brits who work said they believe that fitness / health / wellness devices should form part of their company's employee benefit scheme
Futuristic tech Brits would like to use if they could
Out of all the age groups surveyed, Brits aged 16-24 and 45-54 would most like to use a sensor that monitors their all-round health and fitness (23 percent each) if they could
More than double the amount of Brits aged 25-34 than those aged 55 + would use a virtual reality headset to simulate different locations/courses (22 percent vs 9 percent) if they could
A quarter (25 percent) of office workers would use a sensor that monitors their all-round health and fitness compared to 1 in 7 (14 percent) builders
Nearly a third (31 percent) of Doctors/Nurses would use a robotic personal trainer to act as a pace-setter/coach if they could compared to 1 in 10 (10 percent) builders/gardeners