The 'Kent Collection' is top of the class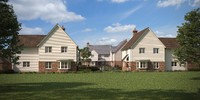 When searching for a new home, ensuring that there are good schools in the surrounding area is a strong deciding factor for parents. For home-hunters thinking ahead to securing their child's secondary school place, Millwood Designer Homes' three new individual developments named the 'Kent Collection' are ideally located for families looking for an abundance of excellent school options within the local area. Nestled in the beautiful Kent countryside, the exceptional selection of homes at Windsor Meadow in Marden, The Old Orchard in Sutton Valence and Brambledown in Maidstone, require no compromise when it comes to the proximity of high-performing grammar schools.
Situated in the idyllic locations of Marden, Sutton Valence and Maidstone in Kent, families are sure to be spoilt for education choice. There is an array of primary schools in the area, such as Tiger Primary School, located just a 10 minute walk from Brambledown and Marden Primary School close to Windsor Meadow. For excellent secondary education, Kent is home to some of the best grammar schools in the country. Invicta Grammar School in Maidstone achieves impressive results at GCSE with 99% of pupils achieving grades A*-C. Oakwood Park Grammar school and Maidstone Grammar school are also within close proximity and are rated outstanding by OFSTED. For private schooling, Sutton Valence School and Bethany School are within close proximity and perfect for residents at The Old Orchard and Windsor Meadow.
Philip Brown, Sales Director at Millwood Designer Homes comments: "The location of good local schools is an essential factor for people when buying a home, to suit their children's needs for now and in the future. For a long time, Kent has been known as an excellent county for first-class grammar schools. House hunters looking for a high quality, new build home will find the selection of homes in the Kent Collection offer idyllic rural locations, with an excellent choice of education options."
Comprising 86 houses, including 2 and 3 bedroom terraced and semi-detached homes and 3, 4 and 5 bedroom detached homes, Windsor Meadow is located on an idyllic country lane in Marden. As well as a vast selection of schools, the development benefits from a selection of local amenities, including Marden Station. Just over half a mile away, direct trains to London take just under an hour.
Brambledown in Maidstone is a selection of 36 houses, including 2 and 3 bedroom semi-detached homes and detached chalet bungalows as well as 3, 4 and 5 bedroom detached homes. Set amongst picturesque surroundings and situated on the edge of Maidstone, each home has been carefully designed to suit the needs of modern buyers. The show home is due to open on 16th and 17th September.
Located in Sutton Valence, The Old Orchard is a stunning collection of 5 homes comprising; a pair of 3 bedroom semi-detached homes and 4 and 5 bedroom detached homes. The Old Orchard is well positioned for excellent schooling in Sutton Valence, a quintessential village that stands tall over The Weald of Kent.
Perfect for families, Maidstone town centre is located a short distance from all of the developments and offers a wide range of amenities and leisure facilities. Maidstone's centre is home to a rich past and vibrant present, home to an array of historic buildings including the Archbishop's Palace adjacent to the River Medway and Leeds Castle, one of the most visited stately homes in Britain.
For those needing to travel or commute, there are good rail links to London from Maidstone East, Maidstone West and Headcorn Stations. By road, the M20 is close and leads directly to M26 and M25, providing easy access to Gatwick and Heathrow Airport, for international travel.
Prices for a three bedroom house start from £485,000 at Windsor Meadow and Brambledown. At The Old Orchard prices start from £465,000 for a three bedroom house. For more information, visit millwooddesignerhomes.co.uk.