All eyes on Cumbria, as Lake District's new UNESCO World Heritage status inspires rush of investment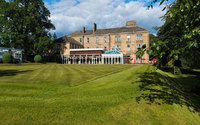 The Lake District in Cumbria has become the latest area of the UK to be awarded UNESCO World Heritage status. The honour is conferred on those sites that the United Nations Educational, Scientific and Cultural Organization deems to be important to humanity due to their cultural, historical and/or scientific significance.
The Lake District is one of the most beautiful UK regions, with stunning rolling mountains and the iconic lakes for which the area is named providing an outstanding natural environment. It has long been popular with walkers, hikers and those seeking peace, away from the trappings of modern life.
Now, Cumbria is also drawing in investors, from property buyers to those picking up hotel rooms.
"A UNESCO World Heritage award often brings with it an increase in property prices and interest from investors. Zoopla figures show that properties near UNESCO sites command a price premium averaging 27% when compared to the average UK home. As such, a lot of investors are appraising Cumbria right now." Ray Withers, CEO, Property Frontiers
It's not just buy-to-let property investments that investors are keen to examine in Cumbria. With an area of such incredible beauty, investments with lifestyle benefits are highly prized. The Eden Country Spa Hotel is a great example of this trend.
Well placed for access to Hadrian's Wall and the Cumbrian countryside, the Eden Country Spa Hotel offers investors two weeks' personal usage per year. The site is currently being developed into a micro-destination in its own right. As well as top-of-the-range spa facilities, the hotel will offer adventure trails, woodland walks and an equestrian centre, as well as a superb, five-star dining experience, magnificent orangery and laidback cocktail lounge.
"What we see at the Eden Country Spa Hotel is just what investors in areas like Cumbria are seeking – an attractive package of lifestyle benefits on top of solid numbers. In this case, that means returns of 10% NET per annum for up to 10 years, with a low entry point of £45,000. It's the whole package." Ray Withers, CEO, Property Frontiers
With the UK in the midst of a staycation boom (travel company Sojern has reported a 23.8% rise in those planning domestic breaks this summer), spa hotels are an attractive option for investors looking to capitalise on current trends. According to Spa Creators, UK consumers make 6 million visits to spas every year, while Diagonal Reports estimates that the UK spa market is now worth more than £1.5 billion.
Hotel spas account for 40% of that market and projections certainly look promising for 2017. PwC forecasts that hotel occupancy levels outside London will reach record highs, with growth in revenue per available room (RevPAR) of 2.3% during 2017.
"Hospitality is a key sector for growth, employment and overseas earnings in the UK. It is our 6th largest contributor to export earnings and 4th largest employer – accounting for 4.49 million people or 10% of the workforce and over 180,000 businesses." Andrew Sentance, Senior Economic Advisor, PwC
All of this is good news for hotels like Cumbria's Eden Country Spa Hotel. With the UK's hospitality and spa industries booming, and the Lake District's new UNESCO World Heritage status attracting considerable attention from tourists and investors alike, the future is looking very rosy indeed.
For more information on investment opportunities around the world, visit propertyfrontiers.com.