Deliveroo to retain manual delivery as it grows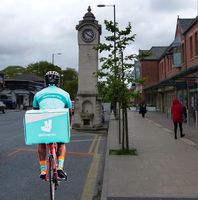 Maybe robots aren't the future for everyone regardless of what sci-fi movies have been telling us for years. Despite being named the fastest-growing startup by The Next Web's European Tech5 competition in late March, Deliveroo CEO and co-founder William Shu has said the company will not be implementing automated deliveries with the use of drones and robots.
This is in direct contrast to the Amazon service, Amazon Prime Air, which sends products to customers with the use of a drone. The initiative, while still years from being used across America, has the potential to ship items using zero manpower, an operation that could drastically help cut costs for many courier businesses. But when asked about the keeping Deliveroo's system in the hands of humans, Shu said as the world progresses and more basic jobs go to robots, this would negatively impact society and the number of jobs available to humans – a move he doesn't want to be a part of.
News of an investment by SoftBank's Vision Fund and Apple seem to suggest other companies are interested in Deliveroo's success as they help the startup compete against other options. This will also help the company maintain stability after a loss of £18.1 million last year when Deliveroo spent on expansion plans. Currently, the company delivers to the UK, Netherlands, France, Germany, Belgium, Ireland, Spain, Italy, Australia, Singapore, United Arab Emirates and Hong Kong.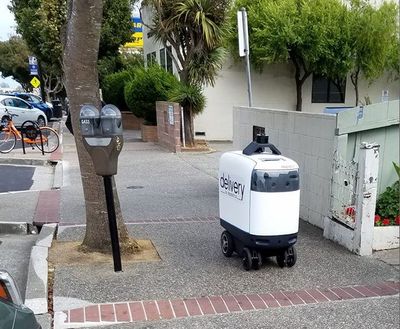 Plans to keep deliveries manual and human drivers in their jobs also oppose projections that American residents will receive food by robot at a growing rate in the coming years with robots already delivering in San Francisco through a Yelp program. The partnership between Yelp and a small startup known as Marble will have robots dispatched to certain San Francisco neighbourhoods where customers can choose to use the robots' services. The robots map sidewalks as they work and take down information on which sidewalks are the busiest during certain times of the day so they can use routes that won't add to the city's foot traffic. So far, Marble has raised $4 million from investors such as Eclipse, Maven Ventures, Amplify Partners and Lemnos Labs.
However, despite this robotic shift, Deliveroo revenue grew to £130 million in 2016. That's a growth of 1000% since 2015. Although the company might not be exploring automated deliveries, it remains clear that it's always looking to improve with a website that is constantly changing. As of right now, the Deliveroo website and app has a number of search options that allow customers to order a variety of dishes, from Indian to sushi to breakfast food or vegetarian. The brand focuses on high-end restaurants and local options which wouldn't normally offer delivery.
Shu added that Deliveroo is an asset for drivers as well as patrons as it's able to give them a flexible, part-time job while they pursue other careers and even stay fit. "80% of our bikers ride bicycles. So for a lot of people, their work replaces the gym, which is something I thought would never happen," Shu said.
The company that built a force of 5,000 drivers in three years will continue to support its drivers over automated robots in the near future, but will surely have some considerations to make once the technology becomes more commonplace. Keep checking back with us to get the latest updates on the story as it unfolds.