How staging your property well could help you to sell your home more quickly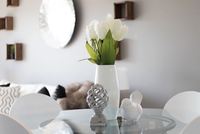 When it comes to selling property, there are two things that all homeowners hope to achieve.
The first, is that the house sells for the market value or above. With the property market being fluid, however, this is subject to change on a regular basis – meaning what you paid for the property five or ten years ago could be completely irrelevant on today's market. Furthermore, if the property market is doing well at the time of sale, then your property is likely to sell for a higher value, whereas if the property market is a little slow – or "cold" as the professionals refer to it – then your property is likely to sit on the market for longer, and therefore is less likely to achieve its full value.
The second, which links very nicely to the previous point, is that the property will sell more quickly. Generally speaking, the longer the property is on the market, the less likely it is to sell for its market value, whatever that may be, which is why a quick sale tends to be regarded as better.
Today, we're going to talk about how staging your property could help you to achieve that sale, and furthermore how that could also positively impact the amount the property sells for.
Ensure All Clutter is Removed
Ask any professional quick sales company in the know such as Ready Steady Sell what the first thing you should do when selling a house is, and they'll all tell you the same thing – declutter, declutter, declutter!
Whether or not you've tuned into Marie Kondo on Netflix and taken on board some of her magic decluttering tips in order to "spark joy", you'll want to make sure that all of the clutter is removed from your property before you put it on the market.
Clutter generally makes a space look untidy, and if it looks that way in your promotional pictures and viewings when they come around, you're in trouble. An untidy space looks, not only messier, but smaller too – which tends to mean people are less likely to be interested in not only buying the property, but buying it for its correct value too. It's in your best interest, and the estate agencies, to declutter before putting your property on the market.
Paint the Walls
The second thing you should consider doing when staging your property for sale, is painting the walls if they haven't been done in a while.
It's surprising what a lick of fresh paint can do to a space. It can help it to look bigger and brighter, smell fresher, and look more sophisticated. We recommend repainting the walls in a light and neutral colour. This is because a light neutral base will help to open the rooms up, and will also provide potential buyers with a blank canvas so that they can imagine putting their own stamp on things.
Plus, it just makes everything look newer. Win-win.
Use Throws and Pillows to Your Advantage
Even if you don't usually bother, when it comes to selling, it's a great idea to use throws and cushions to dress up your beds and sofas.
Throws and cushions that are well matched to a space and a pleasing texture automatically put the cherry on top of a room. They give an air of luxury to a space – particularly in the bedroom – so be sure to plump up your pillows, use your best bedding and to dress the room with throws and cushions. It really does make a big difference.
Rearrange Your Shelves
You might use your shelves simply to be functional – but when it comes to selling, try and think of them as a display cabinet of sorts.
It might sound daft, but say all of your mugs are cluttered on a shelf in the kitchen, for example. Try lining them up, putting an ornament in the middle, and even installing hooks on the underneath to hang them on. Get creative. It makes a big difference.
Add Finishing Touches
Last of all, but by no means least, dress your room with finishing touches.
Appeal to all senses, and strategically place some nicely scented flowers in the centre of the table – or even consider using a wax melt air freshener. Open your curtains, and leave the doors open all through the house. You'd be surprised at how putting fresh fruit in a fruit bowl can brighten up a kitchen.
It's all about giving the illusion of a "perfect" house. It doesn't have to stay that way 24/7 – that would be impossible – but for the sake of viewings and photographs, it could really help to sell your property quickly, and for the right value. Trust us.