7 amazing fitness gadgets that you should buy in 2021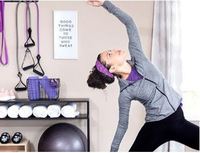 In these demanding times, we have to juggle with a lot of time-consuming activities at once. Often, these activities leave us compromising on our health. However, health should always be our top priority, regardless of the situation.
Fortunately, modern-day technology has provided us with a bunch of exceptional technologies that help us maintain a healthy life in a fun and convenient way. This leads us to the crux of the matter – we have here for you some of the best fitness gadgets that you should get for yourself in 2021. Let's have a look:
Smartwatches have grown to become one of the most sought after gadgets of all time. They provide you with some of the best features that let you keep a tab on your health and also creates a fashion statement.
Fitbit Charge 4 is one of these exceptional gadgets that fitness freaks will definitely find appealing. This seemingly simple fitness tracker offers a number of exceptional features that enable you to better track your overall fitness. Under its hood, you will find amazing features like a GPS tracker, heart rate monitor, sleep tracker, and so much more.
Do you often step on the weighing scale hoping to see the needle drop compared to the last time? Why not get a scale that is not only efficient but smart as well. Wyze Smart Scale features a sleek and functional design to provide you with the most accurate data every time.
This amazing scale will tell you a lot more than just your weight. You can find out your heart rate, BMI, body water percentage, and much more. You can even pair this scale can Wyze cellphone app that provides enhanced functionality.
Who thought that something as basic as a rope could evolve? Well, we could not be more wrong. Smart Jump Rope by Tangram is a phenomenal piece of equipment that will help y ou achieve the ultimate level of fitness.
This smart jump rope is equipped with magnetic sensors that keep track of your performance as you work out. You can further synchronize the rope with the dedicated SmartRope app that will give you detailed workout description. You can even adjust the length of the rope as per your own comfort.
If you are looking for the perfect foam roller that provides you with just the right level of comfort while maintaining optimum levels of efficiency, then TriggerPoint GRID Roller should be your go to choice. It comes with high-density foam that provides perfect compression and comfort simultaneously.
The foam roller helps reduce muscle pains, joint stiffness, and leads to healthy circulation throughout your whole body.
Workouts can become quite boring if you do not have your personalized playlist and for that, you need the perfect pair of headphones. However, the problem with wired headphones is that they get in the way of your physical movements and may get damaged with sweat.
JBL Reflect Flow headphones, however, are the perfect pair of wireless headphones for your workouts. This exquisite pair is equipped with IPX7 Waterproof technology, has up to 30 hours' worth of battery time, and the most comfortable grip.
You could luxuriously enjoy your favorite tunes while you are busy getting in shape. And if you stream live music, you might want to seek assistance from an internet service like Suddenlink internet that provides blazing-fast internet and round-the-clock Suddenlink customer service so that your routine is not disturbed at all.
You must always stay hydrated while you are working out. Amongst all other gadgets and gizmos, the most vital of all will always be your trusty water bottle. HYDRA Tech Bottle emphasizes on its importance by offering a number of additional features in a water bottle.
Getting hydrated is all well and good, but this bottle offers features such as a 5W Bluetooth speaker, 400 maH power bank, built-in microphone, and vibrant LED lights for better utility during the dark.
Sensoria Core Smart Socks V2.0
Everyone wears socks while they go out for a jog or even while working out in a gym. Why not upgrade this piece of fabric as well, and make it techy? Sensoria Core Smart Socks are equipped with AI-powered textile sensors that can track your heart rate to further enhance your fitness sessions. With its dedicated smartphone app, you can assess your session, and subsequently make any adjustments.
In Conclusion
Technology has blessed us with all kinds of gadgets for almost every possible occasion. If you find yourself dreading the workout session, seek assistance from some of these gadgets and reignite your fitness passion.