5 reasons why to use concrete to build your home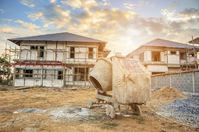 It's hard to think of what can be more exciting than building a new home. Afterall, there is nothing like being able to turn the home of your dreams into reality. While thinking of all the different options for house designs and specific home features, it's important to consider what building materials will be needed to bring those ideas to fruition.
Nevertheless, when it comes down to what building material is sure to be the best choice, there is nothing like using concrete to create your dream home. For anyone looking for a little convincing, check out these 5 reasons why you'll want to use concrete to build your home.
Reason 1: Creative Freedom for Unique Design
When it comes to designing a home, chances are the cookie cutter home styles that developers love to use are not quite the look you're going for. Afterall, why design a home that you can already easily find prebuilt? Building your own home is the only way to have full creative freedom to bring your own unique designs to life.
Deciding to use concrete for your home build allows the exclusive chance to create beautiful designs, like an eye-catching stamped concrete driveway and pathway. There is no doubt your home will stand out brilliantly when you use a customizable material like concrete to create unique designs for the most personal approach to home building.
Reason 2: Low Maintenance Upkeep
Of the many benefits associated with using concrete for home construction, having the guarantee of low maintenance for the upkeep of the house over time is a homeowner's dream come true. Compared to other building materials like wood, some of the low maitenance advantages of using concrete for home construction are:
- Concrete is very durable
- Concrete does not rust
- Concrete will not rot
Reason 3: Effective Noise Isolation
Whether you want to drown out the sounds of neighborhood traffic or you want to avoid your weekly drum practice from creating tension with neighbors, building your home with concrete is the most effective soundproof material choice. Only concrete homes can ensure that external noise stays out and internal noise stays in, so save yourself from the headaches other building materials won't prevent.
Reason 4: Protection Against the Elements of Nature
An ideal perk that concrete homes offer is the provided isolation against hot and cold weather. Since concrete absorbs and retains heat as well as being wind and water resistant, homeowners can sleep soundly no matter what nature throws their way. Best of all, with concretes ability for heat retention, homeowners can look forward to all the money they'll save on their heating and cooling bills.
Reason 5: Durability Against Structural Damage
After building the home of your dreams, the last thing any homeowner wants to worry about is the structural integrity of the house overtime. Unlike a house built with wood, concrete is not vulnerable to costly external threats, such as:
- Fire
- Insects
- Moisture
- Mold
In other words, concrete is the only worry-free material to build the long-lasting home of your dreams.