Cleanse your body with these 5 detoxifying iced tea recipes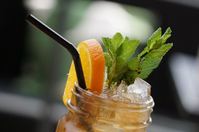 Daily life and stress can weigh upon our health. Our bodies use a number of avenues to cleanse our system through sweating, urine, and the digestive tract. However, an increase in exposure to metals, preservatives, and even pesticides can create a build-up of toxins in our bodies. Due to this, it is imperative to rid our system of these harmful products by switching to a healthier lifestyle and adopting a better diet plan, regular exercise, and a daily detoxification process.
Natural detoxing through tea, and vitamin-rich foods is an age-old remedy used across cultures around the world to cleanse the digestive system and help rid the body of the accumulation of toxins immersed through the air, soil, food and produced by our own bodies.
The demand for detoxifying iced tea drinks has gained recognition not only for tasting great but for being able to cleanse our system and help eliminate waste products and toxins. Detox drinks can prevent health issues like bloating, headaches, gas, fatigue, headache, and skin problems.
To help we have listed below a few beneficial detoxifying iced tea recipes infused with herbs and fruit to keep you feeling healthy, energetic, and strong!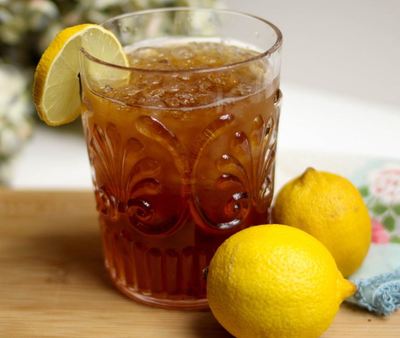 Cucumber and Mint Detox Iced Tea
Mint has multiple benefits and is an effective way to soothe an upset stomach and improves the movement of bile to assist in the digestive process. Paired with lemon and cucumber that both have rich antioxidant properties, this tea is a cooling relief to the summer heat and also the best way to clear your body from unwanted toxins.
Ingredients:
- 3 cups purified or filtered water
- 4 teabags or 4 rounded teaspoons of black or green tea
- 5 slices of fresh cucumber
- ½ lemon, cut into thin rounds
- 6 fresh mint sprigs
- 1-inch ginger, peeled and thinly sliced
Directions:
In a large sealable container cold brew tea with water for a minimum of two hours in the refrigerator. Infuse longer if you prefer a stronger flavor. Strain the tea and combine it with the lemon rounds, mint, and ginger. Let it rest in the refrigerator for another hour to allow all the detoxifying agents to be drawn out. For sweetness, use natural honey, agave nectar, or maple syrup.
Honey Lemon Ginger Iced Tea
Black tea spiced with a hint of ginger, honey and lemon does not only work for a sore throat and common cold but provides an abundance of antioxidants that strengthens the immune system and aids in proper digestive health.
Ingredients:
- 3 cups of water
- 1 teaspoon ginger, finely chopped or grated
- 1 teaspoon black tea leaves or a teabag
- 1 teaspoon lemon juice
- 1 teaspoon honey
Directions:
In a pan heat the water, and before it starts to boil, add the ginger. When it reaches a roiling boil add the tea leaves, lemon juice, and honey. Strain it and let it cool. Add ice and enjoy your tasty immune boost.
Turmeric Basil Detox Iced Tea
The combination of green tea, turmeric, and basil is rich in anti-inflammatory, anti-viral, and anti-fungal properties that cleanse toxins and supports one's overall health.
Ingredients:
- 1 cup green tea
- 1 tablespoon freshly grated or 1 teaspoon dry turmeric
- 1 teaspoon chopped basil leaves
- 1-2 teaspoons honey to taste
- ½ teaspoon lemon juice
Directions:
In a teapot or container place tea leaves with turmeric and basil. Infuse with boiling water and steep for 5 minutes. Season with lemon and honey to your preferred taste. Let it cool and serve it on ice or chilled from the refrigerator.
Orange Spice Detox Iced Tea
Since black tea is rich in antioxidants, combine it with oranges rich in vitamin-C and cinnamon that regulates blood sugar and weight loss. This tea can help clear the digestive system and liver from the build-up of toxins.
Ingredients:
- 1 black tea bag or a teaspoon of loose tea leaves
- ½ teaspoon ground cinnamon
- 1 orange
- 1 teaspoon of chopped or finely grated ginger
- 1 tablespoon of raw honey
- hot water
Directions:
Start with steeping the black tea in a cup of hot water. Green tea also works in this recipe. Pour the honey in and stir until it dissolves. Cut the orange and squeeze half into the tea. Add one round slice to your mug. Add grated ginger and cinnamon. Stir well until all ingredients infuse with the tea. Chill and serve on ice to enjoy the detoxifying qualities of this delicious tea.
Detox Blueberry Lemon Ginger Iced Tea
Blueberries aid in minimizing cholesterol and lowers blood pressure which leads to a healthier heart. Ginger relieves stomach issues and reduces bloating. When combined with lemon which is rich in vitamin C, this tea strengthens the immune system, detoxes the liver, and is an aid for weight loss.
Ingredients:
- 8 cups of filtered water
- 6 bags of green or black tea
- a pint of fresh or frozen blueberries
- 1 lemon, with the zest
- 1 tablespoon fresh ginger, grated or thinly sliced
- fresh mint, orange slices, and blueberries for garnish
Directions:
In a medium-sized pan, add water, tea, blueberries, lemon juice, lemon zest, and ginger. Bring to a boil. Mash blueberries with a potato masher once they're soft. Lower heat and simmer for half an hour. Let it rest to infuse all the flavors together. Strain the mixture into a pitcher, and refrigerate it when cool. Serve chilled over ice and garnish it with blueberries, orange slices, and mint.
In Closing
A natural and effective way to cleanse your system is by making your own detoxifying iced tea and enjoying the advantages without the side effects of prescribed medication. Black and green tea leaves are rich in antioxidants and when combined with other ingredients such as lemon, ginger, and mint can help reduce body toxins.
Regular consumption of detoxifying iced teas can boost your metabolism, work as a diuretic, aid in weight loss, and support digestion. Enjoy a chilled glass of detox tea on a hot day and reap the benefits, you know your body will thank you!