Robust security means calling professional shredders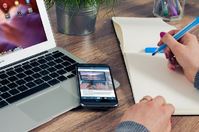 We live in a very digital world, but the non-digital privacy risks haven't gone anywhere. Everybody's personal information is valuable to an identity thief, and cybersecurity isn't the only front in the battle.
Here's why it's important for people running businesses and private citizens to call a professional shredder to eliminate paper and electronic data liabilities securely.
Paper Shredding
We all store information for our records which comprises security risks. Ordinary people develop a paper trail by doing all kinds of everyday things, such as open a bank account or file taxes.
Business owners have no shortage of such records and files, which they need to keep away from identity thieves and corporate saboteurs, especially while more people than ever are working from home. Here are some of the things pro shredders destroy when you call on them for secure document and data destruction for your home:
- Legal documents
- Blueprints
- Architectural designs
- Tax filings
- Business contracts
- Employee details
- Payroll information
- Marketing material
- Business plans
- HR documents
- Presentations
- And more
You may have some of these types of documents lying around or others. If so, they post a data liability until they are securely shredded.
The best professional shredders have a mobile shredding truck that can pull up right to your door and shred your sensitive papers right there. You won't have to strain your back carrying heavy boxes of paper documents!
If you have a backlog of such papers and there's too much to shred for the mobile truck, the shredder will dispatch a truck to transport your material to their facility for secure shredding. Either way, shredding couldn't be more convenient.
Whether your home has documents relating to your business or something else, calling a professional to shred them is the safest thing you can do.
Shredding Electronics
While shredding is usually associated with destroying paper, it should be no surprise to anyone in our technological era that electronic devices pose a major data liability risk. Electronic devices can store almost unlimited amounts of information, and some of it can be very valuable to identity thieves.
Just like paper needs to be shredded, not merely tossed out, putting an electronic device into the garbage doesn't eliminate the possibility of a data breach. Professional shredders will pulverize the microchips on the device so that it's impossible for anyone to retrieve the information they once stored.
Some devices carrying sensitive information are the first ones you're likely to think about, such as a computer, tablet, or smartphone. But other electronics pose risks that you may not initially think of, such as a printer memory card or a photocopier.
Even things like USBs or flash drives pose a risk in the wrong hands. Pro shredders eliminate them all the time.
Ensuring that you're safe from risks like identity theft or corporate sabotage means preventing tangible possessions like paper documents or electronic devices from getting into the wrong hands. For convenient services that will keep you safe, call a professional shredder.