Spending too much shopping online? 7 tips to save money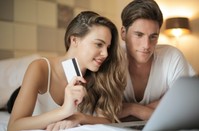 Online shopping is the most convenient and quick way to receive a bunch of items you want at a fraction of the price; you just need to make sure you're getting the best deal possible. Learning how to save money online is essential in the modern world. If you're spending too much money shopping online and want to become deal savvy, use these 7 tips for serious savings.
1. Shop Around for the Best Deals
You can save a lot of money if you shop around for the best deals, but that can be difficult if you don't know where to look. After one Google search, you've probably figured out how frustrating it can be to search through multiple websites that all want to grab and keep your attention. To make this process easier, use Buyer's Guide to compare products under the same keyword. No matter what you're looking for, you can find it for less with their handy shopping guides.
2. Double up on Coupons
It's a given to always browse for coupon codes before purchasing any item in your cart, but it's a good idea to wait when the retailer has a sale before taking advantage of them. Sometimes online stores will let you double up on coupons, so enter in the code at checkout to see if they work. If you do this, you may be able to save 40-50% on your items.
3. Avoid the Dynamic Pricing Trap
Have you ever wondered why your plane ticket keeps rising the longer you look for a deal? Airlines and other retail stores use a tactic called "dynamic pricing," where they up the amount you'll pay based on how often you search for a keyword. To avoid this trap, search in incognito mode or clear your cookie cache before every search,
4. Leave Products in Your Cart
After putting the items you want in your cart, leave the website immediately. As long as you're logged in with your email address while on the retailer's website, there's a chance they'll send you a coupon code after they notice you've abandoned your cart. Online stores will send you a 10-20% off coupon as a last-ditch effort to earn a sale.
5. Save Big on Shipping
Shipping can sometimes be the biggest expense placed on an item. Poshmark, a website that lets people sell second-hand clothing, charges buyers a fixed shipping cost of $7.45 on all items regardless of weight or the number of items bought. To save on shipping, use these tips.
- Buy in Bulk: Although Poshmark is an exception, most retailers will give you a discount on shipping if you buy multiple items at once. Sometimes you'll earn your way to free shipping if you put enough items in your cart.
- Deliver to a Store Location: Big retailers will give you the option of shipping to a local store where you can pick up the item and save on shipping.
- Sign up for Free Delivery: Retailers like Amazon Prime allow their users to pay for free delivery for the whole year.
6. Know When to Buy
Knowing when to buy a product is just as important as searching for deals and coupon codes. Everyone knows that November and December are the perfect months for buying cheap electronics and gifts, but did you know early January can also be good for your wallet? Shop during other holidays as well, even if you don't have anyone to buy for. For example, Mother's Day and Valentine's Day are the perfect holidays to purchase jewelry, cards, and flowers.
7. Talk to Customer Service Chat Boxes
On the bottom left of larger retail websites are chat boxes users can write in if they have a customer service issue. You can ask about their sales or promos in this chat box whenever you come to the website, and the customer service reps will gladly help you. Some companies will give you special discounts just for asking!