What is Staking? All about the new service coming to PrimeXBT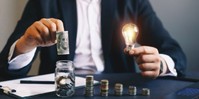 PrimeXBT recently revealed that the ongoing B2B partnership between the award-winning trading infrastructure and European licensed DLT-services developer Covesting would not only continue but expand horizons also to include a new service and module.
The new module, called Covesting Yield Accounts, will go hand and hand with the Covesting copy trading module and will offer PrimeXBT users simplified access to some of the most popular APY-generating DeFi applications in the space.
Here's more about staking, the new account system, and why this is a big deal to the crypto community as a whole.
What Is Staking?
Staking is a crypto-centric term that specifically refers to the process of locking up idle crypto assets and getting some type of profit in return in the form of an APY.
APY stands for annual percentage yield, or the variable rate when averaged out is the percentage you'll make after a year of locking up assets. APYs are set annually; however, with staking, lockup periods are typically much shorter, or assets can be withdrawn at any time – that is just how the calculations behind APY work.
Earning an APY on idle crypto assets by staking is an increasingly popular way to extract the most possible value out of cryptocurrency holdings. Staking can be nearly as effective as trading and, when combined, is a one-two punch of profits for crypto investors.
Get The Most Out Of Staking With COV Tokens
Staking locks up crypto assets for a period the user specifies and earns daily interest in the form of a variable APY. However, with COV tokens, staking COV tokens can boost APY rates by as much as 2x, depending on how many COV tokens are locked up.
Each unique level of COV token staking – Advanced, Premium, and Elite – each also unlock an array of benefits exclusive to that level. The more COV tokens are staked, the better the features that are unlocked. Features range from the aforementioned 2x APY boost to trading discounts, follower limit increases, and much more.
The follower limit increases, and trading discounts refer to when COV tokens are utilized within the Covesting copy trading module. The peer-to-peer copy trading module connects followers with strategy managers to copy their trades.
Conditions can be improved within Covesting copy trading, and with the introduction of COV token staking, COV tokens will also improve the conditions within the newest product in the Covesting ecosystem: Covesting Yield Accounts.
What Are Covesting Yield Accounts?
Covesting Yield Accounts are what ties everything we've talked about thus far together. By staking COV tokens, PrimeXBT users will unlock various benefits such as a 2x APY boost when leveraging other hot crypto assets through the Covesting Yield Account system.
For example, PrimeXBT users can access a variable 5% APY on newly added stablecoins USDT and USDC. By also staking COV tokens, the APY becomes 10% with the 2x boost. Even better, those who join a waitlist on PrimeXBT can also access an additional 1% APY boost during the introductory launch phase lasting one month.
Any of today's hottest crypto assets offered by PrimeXBT can be used with the new service scheduled to launch later this year in the third quarter of 2021, according to a company blog post introducing Covesting Yield Accounts.
What Else PrimeXBT Has To Offer
When Covesting Yield Accounts arrive on PrimeXBT, they'll allow users of the award-winning platform to easily access top DeFi dApps to generate an APY on idle crypto assets. The module also joins Covesting copy trading and some of the most advanced trading tools around.
Built-in charting software from TradingView, stop loss orders, and much more allow any trader to strategize with speed and fluidity without having to leave to another platform. That's also the case for Covesting Yield Accounts, where only on PrimeXBT can traders access a variable APY while also trading CFDs on forex, commodities, stock indices, and crypto assets like Bitcoin, Litecoin, and Ethereum.
With no minimum deposits on margin accounts, a recent V2.0 upgrade that introduced Ethereum and stablecoins in addition to Bitcoin, there's never been more reasons to access PrimeXBT – the one trustworthy one-stop-shop on the web.