Ways to have fun on a budget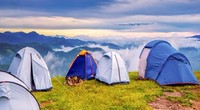 Whether you're saving up for a new property or cutting back on spending in order to help with bills, living on a budget can be tough at times, particularly if you want to experience the array of fun and entertaining activities we all have available to us in the modern world.
From going to the cinema to venturing to a local theme park, these types of activities create memories and provide the relief we need from everyday stresses, but they aren't always kind on the wallet, especially for people who are aiming to make some tough savings and cut back on a few things. Of course, these types of options can still be enjoyed after a period of saving, but inbetween those times it can be tricky to find affordable ways to have fun. Thankfully, there are some activities worth exploring that don't require huge investment and will enable you to stay on top of your financial goals while having some worthwhile leisure time in the process. Let's take a look at some of them below.
Have a fish and go camping
Immersing yourself in nature is a sure-fire way of creating some lasting memories and having a good old chuckle along the way. For some, fishing is a great way of exploring the outdoors and having some enjoyment. The fishing could then be combined with some camping, another popular option for people. Neither experience needs to cost a lot and can provide some genuine respite from everyday life.
Explore any free tours
Luckily, not everything in the world costs an arm and a leg. A popular option for many is going on a free tour at a local museum, winery or draft house. These types of options will provide an interesting experience on the whole, particularly if you're able to taste any treats or learn some important historical information along the way.
Access an array of mobile games
These days, we all own a smartphone device that comes with a range of impressive features. As well as downloading applications and taking high-quality images for social media use, people are also accessing an array of mobile games. Mobile games are free or incredibly cheap on the whole, offering a genuinely excellent product for people to sample for a few hours. An extensive selection of titles can be downloaded on both iOS and Android devices, alongside having the opportunity to explore browser game products, such as Pragmatic Play's selection of casino games and a range of other go-to options. We're seeing the emergence of augmented reality games like Pokemon Go, too, a hit release that combines walking with an immersive gaming experience.
Sport, anyone?
Another way you can have some fun without spending a bomb is through a range of sports. Whether it's through a five-a-side match with friends or a pool competition in a local pub, enjoying some sport isn't expensive and serves up a solid dose of entertainment.
Play a board game
Board games have been around for centuries and provide a genuine entertainment option for people in the modern world still. A range of tabletop classics don't cost a great deal of money and can be used again and again, providing a constant source of entertainment as a result. No board gaming session is the same either, offering an ever-changing wave of fun and entertainment that is suitable for a range of audiences. Popular board games include Scrabble, Monopoly, Pandemic, Twister, UNO, and Pictionary.
Other options include going on a bike ride, making YouTube videos, going through old photos, volunteering, listening to music, reading, cooking, gardening, karaoke, and window shopping.