B2B Content Marketing: 5 Important Elements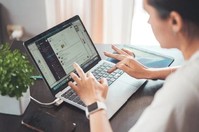 B2B content marketing may be difficult to execute, but it is essential. A solid B2B marketing strategy is meant to bring you close to your ideal market.
It solves their pressing issues, making them curious about your business. Your B2B content needs to inspire a sense of reciprocity.
It should give your audience a reason to work with you rather than your competitors. Here are a few important elements of B2B content marketing.
Actionable and Practical
First, your B2B content needs to be practical and relevant to the needs of your target audience. Think of readers who visit your site looking for some information.
If your content doesn't help them solve an issue or answer a problem, it isn't very helpful. They will probably check out the competitors' site.
In addition to practicality, the content has to be actionable. This means that aside from getting the what and why your target audience also needs to know when your content is applicable to their problem.
Go Beyond the Product
Resist the temptation to put all your focus on the product even though your end goal may be to promote sales. Good content is tailored to meet the needs and interests of the target audience. It isn't pushy or overly promotional.
Pushy content will only get users' attention at the bottom of the sales funnel. You may be missing out on lots of valuable opportunities. User-centered content makes it easier to build a rapport with your audience.
Content that goes beyond your product is exciting and informational. You can cover a variety of topics relevant to your audience's needs.
B2B content should relate your products to the daily needs of your target audience. B2B content marketing courses will give you tips for creating marketable content.
Reliable
Your B2B content has to be reliable. Since you will be representing your industry and company as an expert, the information you provide needs to be truthful. If people cannot trust it, they will turn to other industry experts.
In addition to accuracy, your content has to be top-quality. It must be current and convincing. It is impossible to convert visitors to your site if you cannot convince them. Well-grounded content is the easiest way to prove your worth as a business and build credibility.
Choose Your Main Channels and Content Formats
Determine the best content formats and channels for the needs of your target market. SEO is a big part of your B2B marketing strategy.
It helps you reach your audience without spending too much money or time. You may need to create podcasts or videos depending on the nature of your audience.
If you want to target highly visual audiences, video tutorials and Instagram posts are great. If, however, they prefer to read, ebooks and blog posts may be more appropriate.
Pay attention to the social media platforms you use. Usually, LinkedIn is the most appropriate channel for business.
Before determining the appropriate content channels and formats, take some time to study and understand your audience.
Fresh
Fresh content is relevant and attractive. However, this doesn't mean that you need to keep coming up with content every other day. You don't need to update your old content every few days.
Fresh B2B content is presented in the context of global events, new research data, and emerging trends. Such content makes sure that your audience comes to you for the latest news.
When creating your B2B marketing strategy, content is everything. The right content should match your business needs. It should be fresh, reliable, practical, and actionable. In addition to marketing your product, the right content should offer value to the readers.