New menu at The Frog By Adam Handling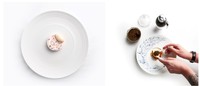 Fresh off the back of winning a Michelin star at his flagship restaurant, Frog by Adam Handling, Chef Adam Handling continues to raise the bar as he announces a brand-new menu concept, which launched at the restaurant last month.
The Frog by Adam Handling menu, which previously consisted of two separate five and seven course tasting menus, has been fully transformed and replaced with one spectacular ten course tasting menu. Adam has created the new menu to take his sustainability agenda to the next level, providing the team with even more opportunity to use their creative freedom and use the very best seasonal produce from some of the UK's top suppliers, in line with the restaurant's philosophy, 'British food, inspired by London'.
Almost every dish on the menu is completely new – even Adam's signature 'Bread, chicken butter' and 'All about the sturgeon' have been elevated, all whilst retaining Adam's signature flair and touch of theatre. The menu is more focused, more refined, and allows Adam and the team to expertly craft each dish, right down to the garnishes, perfectly coinciding with Adam's favourite season for produce, Spring.
In keeping with the restaurants enhanced focus on sustainability, the brand-new snacks have been created using by-products and offcuts from the main dishes – another step to becoming as close to zero-waste as possible, without compromising on flavour.
Guests can experience outstanding new dishes such as 'Scallop, carrot, chilli' and 'Tomato, pepper, basil', before being given the choice between the 'Wagyu beef, hen of the woods' or 'Lamb, sweetbread, morels' course. Every dish uses quality, British ingredients direct from suppliers and farmers around the UK, which is demonstrated to guests via a map, which is beautifully illustrated on the menu. Rounding off the menu are sumptuous desserts including seasonal 'Apricot, lemon thyme, yoghurt' and a supplemental 'Baron Bigod, fig, toasted brioche' cheese course, for those who prefer to end the meal with a touch more indulgence.
Adam says 'I'm so excited to be able to push my sustainability initiative even further. We are working closely with small like-minded producers and are buying in whole beautiful animals and utilising all parts of the animal across our restaurant group. We are also using a lot of foraged products from our Cornwall restaurant, Ugly Butterfly. The team and I have put just as much passion and energy into creating one insane menu as we did creating two, focusing even more on the finer details and creating an unforgettable experience for each and every guest.'
The all-new menu is priced at £175pp, with an added £100pp for the wine pairing and £200pp for the premium wine pairing.
For more information, visit frogbyadamhandling.com