Turners of Soham take their 100th DAF FTP tractor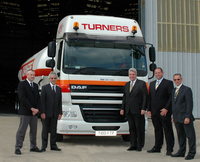 In a major renewal of its bulk tanker fleet, Turners (Soham) Limited has put its 100th DAF FTP model into service and given it the unique registration T100 FTP. A further 75 FTPs are on order for delivery over the next 12 months.
Franklin Turner, a director of the 77-year-old family firm, says that the FTP is particularly well suited to bulk tanker work because of the light weight of its lifting axle, which uses 17.5 inch wheels.
"We get about another half a tonne of payload from this model compared to a mid-lift axle tractor with standard 22.5 inch wheels," he says. "In addition, the ability to lift the middle axle and temporarily transfer more weight to the drive axle can prove useful by providing increased traction to cope with slippery site conditions."
The new truck is a 44 tonne CF85 powered by the 12.9 litre DAF MX engine rated at 410 bhp (300 kW) at 1900 rpm and delivering 2000 Nm of torque across a band between 1000 and 1410 rpm. The engine meets the Euro 5 emissions standard some 12 months ahead of this becoming mandatory. In line with their policy of moving to automatic transmissions, Turners have opted for the automated 12-speed AS-tronic gearbox to contribute to reducing driver effort and stress and thereby increasing safety.
Further driver comfort is provided by the specification of DAF's Super Space cab. This offers a comfortable and spacious working environment with low in-cab noise levels, well-placed controls and easy-to-read instruments. It also has ample storage space for the driver's belongings and any personal protective equipment he needs to carry.
The 100th DAF FTP is being used on bulk cement deliveries pulling a tri-axle Feldbinder bulk powder tank and is expected to cover in excess of 100,000 kilometres a year. During its three-year warranty period the truck will be serviced and maintained by the supplying dealer Marshall Motor Group of Cambridge and thereafter in Turner's own well-equipped workshops at Newmarket, where the truck is based.
Speaking at a recent handover ceremony for the new truck, Edward Parry, DAF franchise manager at Marshall Motor Group, said he was delighted to supply this 100th FTP to Turners. "We have enjoyed an excellent working relationship with Turners of Soham for many years and value their business highly.
"This new truck, along with the FTPs and other DAF models that the company currently have on order, testify to Turners' commitment to maintaining a high-quality, modern fleet with which to serve its customers. As another successful, privately-owned, family firm, Marshall Motor Group is very pleased to be associated with such a respected and progressive company."
Founded in 1930, Turners (Soham) Limited is today one of the largest independently-owned transport and distribution businesses in the country. It specialises in bulk tanker and temperature-controlled work and runs over 800 trucks out of nine locations in the UK and a depot in Rotterdam. The company has more than 1,300 employees.