LDV dealer supports growing builders merchant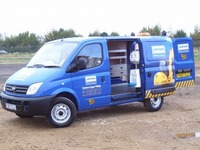 Lincoln-based LDV dealership Ford & Slater has won a contract to supply a builder's merchant with a new MAXUS dropside and a specially converted MAXUS van.
Jackson Building Centre has taken delivery of a MAXUS dropside at its newly opened Hykeham branch near Lincoln and a short wheel base 95PS MAXUS for its recently expanded Powered Access Hire division.
The new chassis cab will be used to transport customers' deliveries on the back of further growth for the merchant. The new van will be used as a service vehicle for maintaining and repairing plant and access equipment, such as, scissor lifts and dumpers used for long-term hires.
The interior of the MAXUS van was uniquely fitted with an extendable vice, hexagrip flooring, sink, beacon lights and hazard strips, all crucial for a vehicle visiting construction sites.
The Lincolnshire-based builder's merchant operates a chain of 24 depots employing a team of over 1,000 specialists. The company supplies materials for trade professionals in the construction industry including plumbers, roofers, decorators, builders and the recently expanded Powered Access Division.
Ian Turtle, group transport manager of Jackson Building Centre, said that warranty and service package made the LDV MAXUS a clear winner. "Ford & Slater has always provided us with a professional and thorough service. We already have a number of MAXUS vehicles in operation which we are more than happy with and the impressive cost of ownership made our decision simple once again.
"The expansion of the Powered Access Hire Division required a specifically designed vehicle to meet the strict health and safety requirements on construction sites. The interior was carefully designed to carry specialised repair equipment ensuring any maintenance of the machinery is minimal."
George Newton, franchise manager at Ford & Slater Lincoln, added: "We pride ourselves on providing our customers the right specification at the right price. We're pleased to have met Jackson's business needs once again."
Ford & Slater of Lincoln is based on Sleaford Road, Bracebridge Heath, Lincoln and supplies both new and used LDV vehicles. The dealership also offers servicing, parts and VANfit roadside recovery. For further information visit ldv.com.